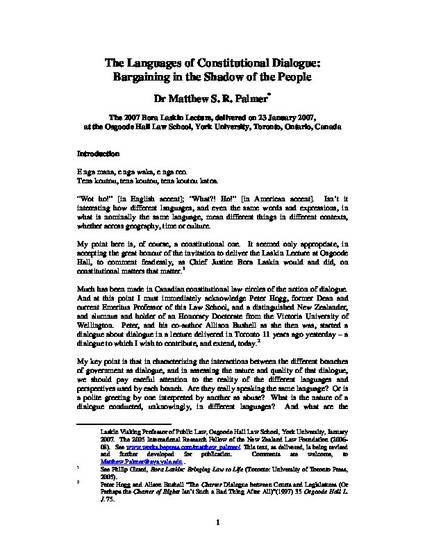 Presentation
The Languages of Constitutional Dialogue: Bargaining in the Shadow of the People
2007 Laskin Lecture, Osgoode Hall Law School, York University (2007)
Abstract
The 2007 Bora Laskin Annual Lecture at Osgoode Hall Law School analyzes law and policy as different languages in which the judicial and political branches of government speak and think - the languages of law and policy. It asks what the languages should be in which constitutional dialogue is conducted and, in particular, whether judges should always be required to be legally trained.
Keywords
Constitutional Dialogue,
Rule of Law,
Law and Policy,
Role of Judiciary
Publication Date
January, 2007
Citation Information
Matthew S. R. Palmer. "The Languages of Constitutional Dialogue: Bargaining in the Shadow of the Law" (2007 Laskin Lecture, Osgoode Hall Law School, York University. Toronto, Canada. Jan. 2007).