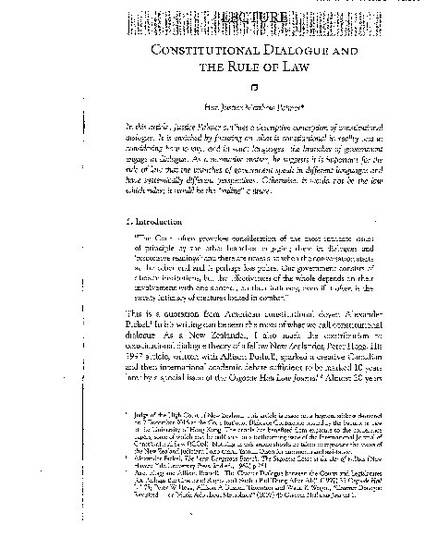 Article
Constitutional Dialogue and the Rule of Law
Hong Kong Law Journal (2017)
Abstract
In this article, Justice Palmer outlines a descriptive conception of constitutional dialogue. It is enriched by focusing on what is constitutional in reality and in considering how loudly, and in what languages, the branches of government engage in dialogue. As a normative matter, he suggests it is important for the rule of law that the branches of government speak in different languages and have systemically different perspectives. Otherwise, it would not be the law which rules; it would be the "ruling" culture.
Keywords
Rule of Law,
Constitutional dialogue
Citation Information
Matthew S R Palmer, "Constitutional Dialogue and the Rule of Law" (2017) 47 Hong Kong Law Journal 505.