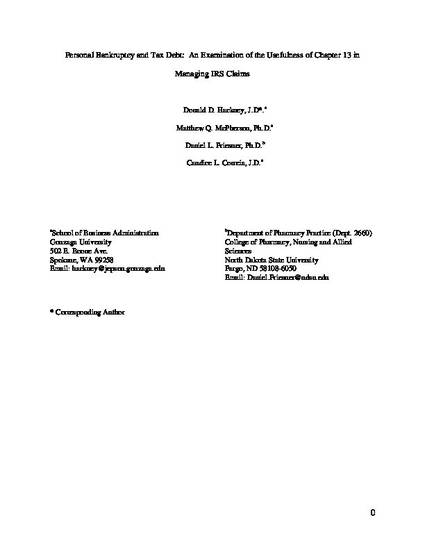 Unpublished Paper
Personal Bankruptcy and Tax Debt: An Examination of the Usefulness of Chapter 13 in Managing IRS Claims
ExpressO (2010)
Abstract
The bankruptcy code has been used, with varying degrees of success, to mitigate debtor obligations for certain classes of financial claims. Taxes are a unique class of claim. The IRS, as the enforcement tool of the Federal Government's revenue generating operations, is armed with collection powers not available to ordinary creditors. These include, but are not limited to, liens, levies, attachments, assessment penalties, and, most significantly, the power to ignore debtor homestead protections. Bankruptcy can be very valuable to a debtor caught in an active IRS tax collection. For example, filing Chapter 13 bankruptcy stops the running of interest on un-secured tax claims, stops assessment of penalty interest, and, most importantly stops all IRS collection activities during the pendency of the case. In this paper, we examine the relationship between bankruptcy and tax debt. More specifically, we examine whether Chapter 13 filers with non-dischargeable tax debt are more or less likely to have a successful (or unsuccessful) bankruptcy petition.
Keywords
Personal Bankruptcy,
Chapter 13,
Bankruptcy and Taxes,
Schedule E
Publication Date
May 2, 2010
Citation Information
Matthew Q McPherson, Donald D Hackney, Daniel L Friesner and Candice L Correia. "Personal Bankruptcy and Tax Debt: An Examination of the Usefulness of Chapter 13 in Managing IRS Claims"
ExpressO
(2010)
Available at: http://works.bepress.com/matthew_mcpherson/1/