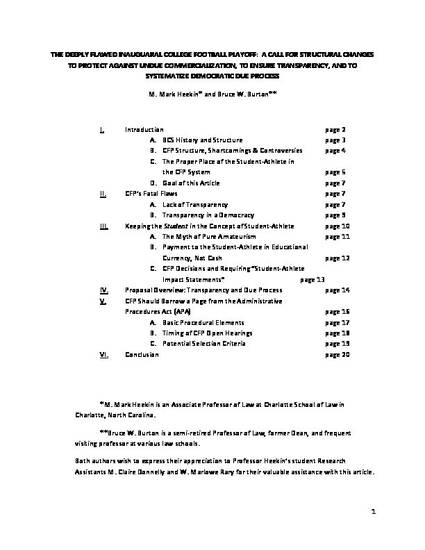 Unpublished Paper
The Deeply Flawed Inaugural College Football Playoff: A Call for Structural Changes to Protect Against Undue Commercialization, to Ensure Transparency, and to Systematize Democratic Due Process
ExpressO (2015)
Abstract
This article contends that the new College Football Playoff system (CFP)—as formulated and administered in 2014—contains a series of serious flaws. The new CFP system needlessly incorporates an anti-democratic structure, lacks in the transparency required for sustainability in a democratic society, and endangers the longstanding tradition of the student-athlete in American college athletics. This article offers several detailed suggestions—in part modeled on the Administrative Procedures Act—to correct these flaws and move towards an improved CFP system.
Employing the benchmarks of television viewership and advertising revenues, some have declared the inaugural 2014 College Football Playoff a success. From the purely commercial vantage point, the initial College Football Playoff was a great success. With vast salesmanship and public interest generated by CFP's vague selection process—plus the Herculean marketing efforts of CFP's partner ESPN—one is driven to conclude that the sole mission from CFP's inception was to build marketplace dominance, increased viewership, and increased revenues for big time college football. From a larger perspective, however, other values exist and should also be served.
Therefore, the CFP system is in need of procedural reforms to protect against potential evils such as the over-commercialization of college football's student-athletes and to install democratic virtues such as transparency and due process which must lie at the heart of any selection process that needs sustainable popular acceptance. Something so historically revered in American culture as the national college football championship warrants a process that is open and more consistent with America's historic values.
This article recognizes—as affirmed in Federalist Paper Number 51—that there are inadequacies in any system of governance devised by humans, including the CFP selection process. Accordingly, the article's goal is not merely to serve up negative criticism of the inaugural CFP for its own sake. But to offer tested solutions and to provide an open and systematic structure for the CFP to self-correct as flaws become evident from time-to-time in the light of operating experience.
Keywords
College Football Playoff,
Administrative Procedure Act
Publication Date
February 13, 2015
Citation Information
Matthew M. Heekin and Bruce W. Burton. "The Deeply Flawed Inaugural College Football Playoff: A Call for Structural Changes to Protect Against Undue Commercialization, to Ensure Transparency, and to Systematize Democratic Due Process"
ExpressO
(2015)
Available at: http://works.bepress.com/matthew_heekin/3/