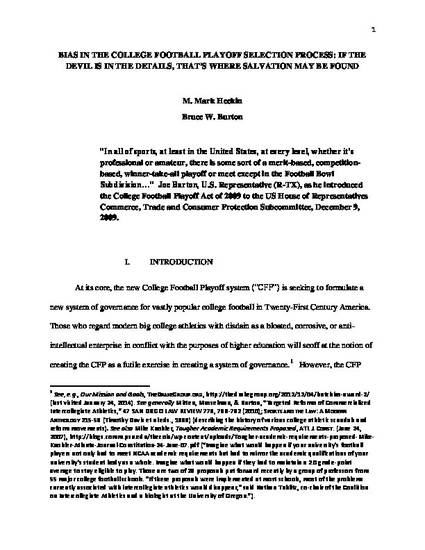 Unpublished Paper
Bias in the College Football Playoff Selection Process: If the Devil is in the Details, That's Where Salvation May be Found
ExpressO (2014)
Abstract
After sixteen years, the Bowl College Series ("BCS") format for selecting a national college football champion has ended. Beginning in 2014, the BCS format will be replaced by the College Football Playoff ("CFP") format. Unlike the BCS, which utilized a formula comprised of two human polls and one computer generated poll to match the number one ranked college football team against the number two ranked team, the CFP utilizes a four team playoff in post-season play. Without quantified standards or computer input, a CFP selection committee comprised of thirteen people will annually select four finalists to participate in two semi-final games which will be played in a rotation among six major bowls. After the two semi-final games are played, a stand-alone national championship game will match the two semi-final winners. The CFP selection process is deeply flawed and stands in need of substantial reform. This article is an early assessment of four potentially significant—possibly fatal—flaws springing from human bias in the new CFP system. It proposes some workable, practical solutions to each flaw.
Publication Date
February 9, 2014
Citation Information
Matthew M. Heekin and Bruce W. Burton. "Bias in the College Football Playoff Selection Process: If the Devil is in the Details, That's Where Salvation May be Found"
ExpressO
(2014)
Available at: http://works.bepress.com/matthew_heekin/2/