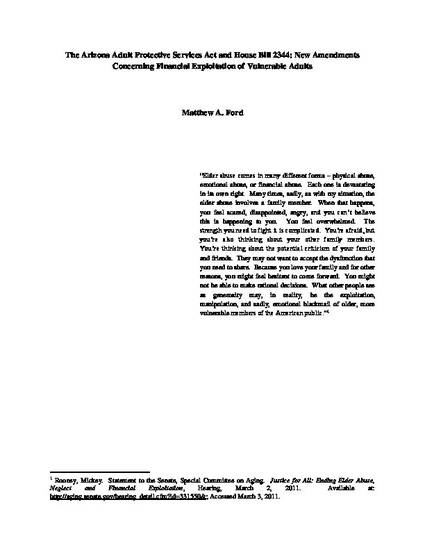 Unpublished Paper
The Arizona Adult Protective Services Act and House Bill 2344: New Amendments Concerning Financial Exploitation of Vulnerable Adults
ExpressO (2011)
Abstract
ABSTRACT The Arizona Adult Protective Services Act ("APSA") was originally enacted by the Arizona State Legislature in 1988 in order to protect the State's substantial elder population and codified elder abuse as a Class 5 Felony. A year later the Act was amended to provide a civil statutory cause of action for elder abuse and financial exploitation, over and above remedies already provided in Title 12 of the Arizona Revised Statutes. Most recently, House Bill 2344 ("HB 2344") was introduced in the Forty-ninth Arizona State Legislature, First Regular Session, 2009. HB 2344, inter alia, overhauled statutory definitions and elements, and affords criminal affirmative defenses to alleged APSA financial exploiters. The Bill passed through both houses and Governor Jan Brewer signed the new legislation into law on July 13, 2009. As a result, the new, non-emergency legislative amendments discussed herein took effect on September 30, 2009.
Publication Date
March 9, 2011
Citation Information
Matthew A. Ford. "The Arizona Adult Protective Services Act and House Bill 2344: New Amendments Concerning Financial Exploitation of Vulnerable Adults"
ExpressO
(2011)
Available at: http://works.bepress.com/matthew_ford/2/