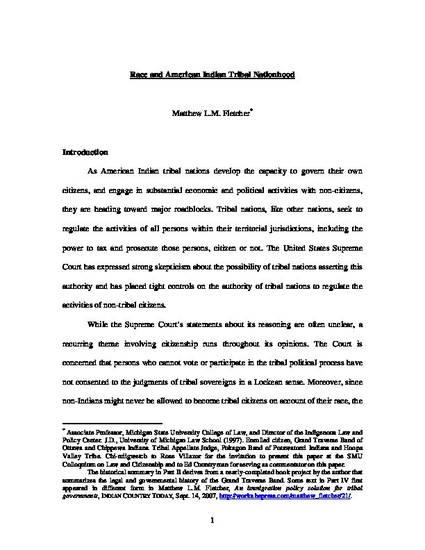 Unpublished Paper
Race and American Indian Tribal Nationhood
ExpressO (2009)
Abstract
As American Indian tribal nations develop the capacity to govern their own citizens, and engage in substantial economic and political activities with non-citizens, they are heading toward major roadblocks. Tribal nations, like other nations, seek to regulate the activities of all persons within their territorial jurisdictions, including the power to tax and prosecute those persons, citizen or not. The United States Supreme Court has expressed strong skepticism about the possibility of tribal nations asserting this authority and has placed tight controls on the authority of tribal nations to regulate the activities of non-tribal citizens.
Tribal governments are nations and should act like nations. For Indian nations to progress into self-governing, independent nations within a larger nation, they will need to find a way to include non-Indians in the political processes of the tribal government while still maintaining a distinctive tribal character. I suggest in this paper that Indian tribes either amend their citizenship criteria to allow non-blood Indians to become members, as the United States and other nations have done; or, failing that, adopting a sort of tribal immigration policy under the rubric of federal Indian law that would, perhaps, accomplish the same result over decades.
Keywords
race,
federal Indian law,
citizenship
Publication Date
February 15, 2009
Citation Information
Matthew L.M. Fletcher. "Race and American Indian Tribal Nationhood"
ExpressO
(2009)
Available at: http://works.bepress.com/matthew_fletcher/41/