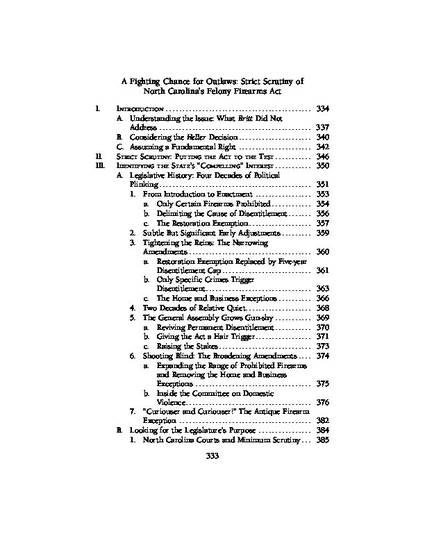 Article
A Fighting Chance for Outlaws: Strict Scrutiny of North Carolina's Felony Firearms Act
Campbell Law Review (2010)
Abstract
This comment presents a substantive due process challenge to North Carolina's Felony Firearms Act (codified at N.C. Gen. Stat. § 14‑415.1), which, as modified in 2004, criminalizes owning a firearm—even in your own home—if you've ever been convicted of a felony. The discussion is very comprehensive.
I begin with an assumption (which by now appears supported by Second Amendment jurisprudence and post-Heller commentary) that individuals have a fundamental right of self-defense, and proceed to demonstrate that the Act deprives persons of that right without being narrowly tailored toward furthering any compelling state interest. For example, the statute does not acknowledge that certain felonies are not indicative of dangerousness or that persons who have been model years for 30 years since their conviction can be trusted with firearms. And oddly enough, the statute completely ignores even the most patently dangerous misdemeanants. Problems with this law are numerous, and I explain them in detail. In short, the Act is far too under- and overinclusive to satisfy due process.
Notably, as part of trying to identify some convincing justification for the overbreadth of the statute, I unearthed a wealth of remarkable legislative history. Some of the circumstances of the Act's amendments over the years are surprising and alarming. The piece details this legislative history exhaustively, for it suggests that the General Assembly's focus was not really on public safety or any similar interest, but on the continued vilification of "convicted felons"—a very popular political tactic, but one that should embarrass the state's legislators in this instance.
Keywords
Felony Firearms Act,
Strict Scrutiny,
Legislative History,
Gun Laws,
Heller
Citation Information
Matthew Jordan Cochran, Comment,
A Fighting Chance for Outlaws: Strict Scrutiny of North Carolina's Felony Firearms Act
, 32
Campbell L. Rev.
333 (2010).