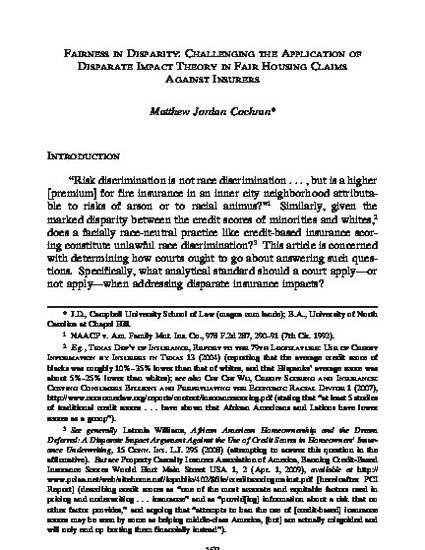 Article
Fairness in Disparity: Challenging the Application of Disparate Impact Theory in Fair Housing Claims Against Insurers
George Mason University Civil Rights Law Journal (2011)
Abstract
This article responds to courts and commentators that have expressed willingness to apply the familiar "disparate impact" analysis--which is a creation of Title VII (employment discrimination) jurisprudence--in suits against homeowners' insurers. Specifically, these insurers' credit-based pricing mechanisms systems are attacked under the Fair Housing Act as having a discriminatory effect on members of protected classes with poor credit. Unfortunately, there are a number of legal, conceptual, and practical arguments against application of this Title VII standard in such cases. Yet courts endorsing this standard do not appear to have given due consideration to the possibility that some disparities simply might be "fair" for purposes of fair housing. Indeed, it would seem the most deleterious unfairness lies in requiring insurers to prove their race-neutrality through conceptually inapposite, impractical, and expensive means.
Keywords
disparate impact,
Title VII,
risk transfer,
insurance premium,
credit scoring
Publication Date
April 7, 2011
Citation Information
Matthew Jordan Cochran,
Fairness in Disparity: Challenging the Application of Disparate Impact Theory in Fair Housing Claims Against Insurers
, 21
Geo. Mason U. Civ. Rts. L.J.
159 (2011).