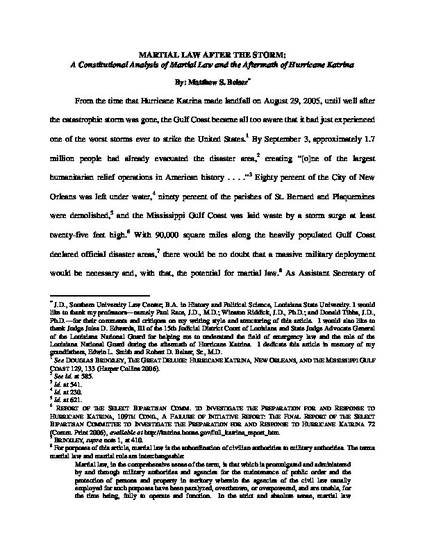 Article
MARTIAL LAW AFTER THE STORM: A Constitutional Analysis of Martial Law and the Aftermath of Hurricane Katrina
Southern University Law Review (2007)
Abstract
In the aftermath of Hurricane Katrina, many around the nation saw the awful and at times shameful images of the pain and devastation resulting from the storm and a poor governmental response. This has led many to ponder the question of what would be the appropriate response to future emergencies. Some might even think martial law to be an appropriate response to a natural disaster of Katrina's magnitude. Most people use the term "martial law" in situations where the more appropriate term is the law of "public emergency". This article compares and contrasts these two legal constructs, and uses the preparation for and response to Hurricane Katrina as a case study for the dangers associated with confused application of these two separate constructs. The aftermath of Hurricane Katrina demonstrates why the law of public emergency construct is more appropriate for most situations and is consistent with constitutional principles. Some have argued that the use of the federal military to enforce the law during the aftermath of a major natural disaster is a more appropriate response. However, in keeping with the checks and balances that federalism provides, so long as a military response to a natural disaster is available pursuant to state police powers, there is no reason for the federal government to impose military authority over state civil authorities in order to enforce the law.
Publication Date
Fall 2007
Citation Information
Matthew S. Belser. "MARTIAL LAW AFTER THE STORM: A Constitutional Analysis of Martial Law and the Aftermath of Hurricane Katrina" 35 S.U. Law Rev. 147 (2007).