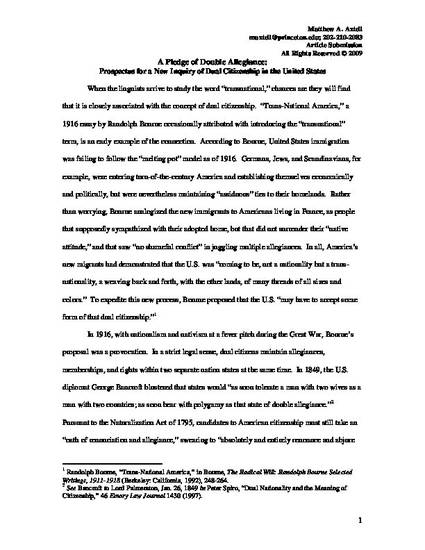 Unpublished Paper
A Pledge of Double Allegiance: Prospectus for a New Inquiry of Dual Citizenship in the United States
ExpressO (2009)
Abstract
This essay analyzes the dual citizenship output of scholars from differing schools of thought, from traditionalist academics working in U.S. law schools, to writers utilizing postnational, New Left, or Latin American perspectives. These academics have taken a number of paths when analyzing dual citizenship. Demonstrating a mastery over changing legal doctrine, U.S. law professors offer tales of upward evolution, with legal regimes and policies gradually but inevitably moving from a "restrictive" past to a "tolerant" present. Postmodern social theorists portray dual citizenship as the start, not the end, of something very big. For them, dual citizenship heralds the arrival of a new "post-national" era where individuals enjoy multiple identities at once. Looking backward instead of forward, other historians working from a New Left tradition of civil rights activism prefer to offer a caveat, focusing on past cases where American naturalization laws eliminated opportunities for dual citizenship. In recent years, scholars of Latin America have begun to fill in perspectives on dual citizenship from the modern sending nation's view, offering critical insight on the other half of the dual citizenship equation. Now informed with this transnational perspective, it is clear that a more balanced and nuanced understanding of dual citizenship is beginning to form. The field, however, still awaits a synthesis. My piece concludes by suggesting a path that writers could take if they are interested in launching into a book-length foray on the dual citizenship phenomenon.
Keywords
Dual Citizenship,
Transnational,
Postnational
Publication Date
March 10, 2009
Citation Information
Matthew Axtell. "A Pledge of Double Allegiance: Prospectus for a New Inquiry of Dual Citizenship in the United States"
ExpressO
(2009)
Available at: http://works.bepress.com/matthew_axtell/6/