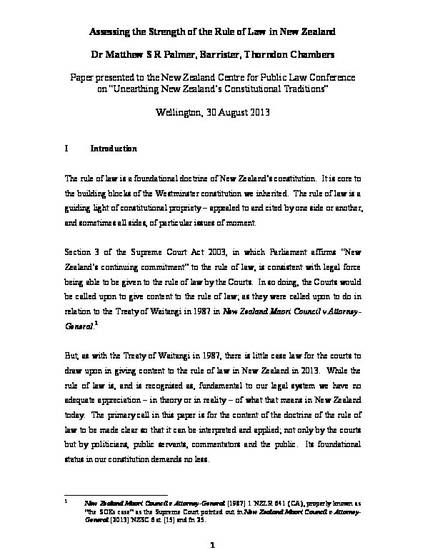 Presentation
Assessing the Strength of the Rule of Law in New Zealand
"Unearthing New Zealand's Constitutional Traditions", Conference of the New Zealand Centre for Public Law (2013)
Abstract
The rule of law is fundamental to New Zealand's legal system but its content is inadequately understood and observed. This paper calls for the rule of law in New Zealand to be clarified, strengthened and applied. The article offers an essentialised conception of the rule of law that might cross ideological divides and assesses recent Acts of Parliament against that conception. Finally, the article comments on the place of the rule of law in New Zealand's constitutional culture and calls for its strengthening by establishment of an independent means of assessing draft legislation for consistency with the rule of law.
Keywords
Rule of Law,
New Zealand constitution
Publication Date
August 30, 2013
Citation Information
Matthew S. R. Palmer. "Assessing the Strength of the Rule of Law in New Zealand"
"Unearthing New Zealand's Constitutional Traditions", Conference of the New Zealand Centre for Public Law
(2013)
Available at: http://works.bepress.com/matthew-palmer/8/