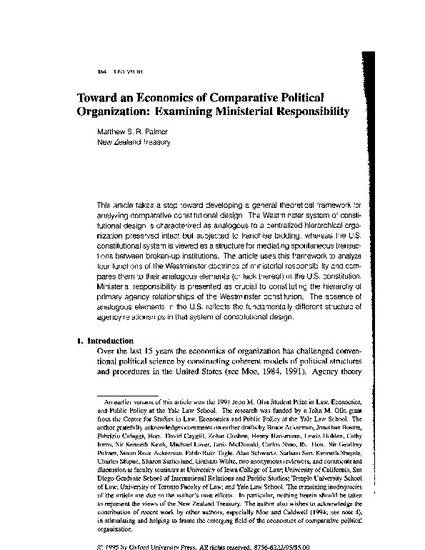 Article
Toward an Economics of Comparative Political Organization: Examining Ministerial Responsibility
Journal of Law, Economics and Organization (1995)
Abstract
This article takes a step toward developing a general theoretical framework for analyzing comparative constitutional design. The Westminster system of constitutional design is characterized as analogous to a centralized hierarchical organization preserved intact but subjected to franchise bidding, whereas the U.S. constitutional system is viewed as a structure for mediating spontaneous transactions between broken-up institutions. The article uses this framework to analyze four functions of the Westminster doctrines of ministerial responsibility and compares them to their analogous elements (or lack thereof) in the U.S. constitution. Ministerial responsibility is presented as crucial to constituting the hierarchy of primary agency relationships of the Westminster constitution. The absence of analogous elements in the U.S. reflects the fundamentally different structure of agency relationships in that system of constitutional design.
Keywords
Law and Economics,
Political Economy,
Ministerial Responsibility,
Westminster constitution,
Comparative Constitutional Law
Publication Date
April, 1995
Citation Information
Matthew S. R. Palmer. "Toward an Economics of Comparative Political Organization: Examining Ministerial Responsibility" 11
Journal of Law, Economics and Organization
167-191 (1995).