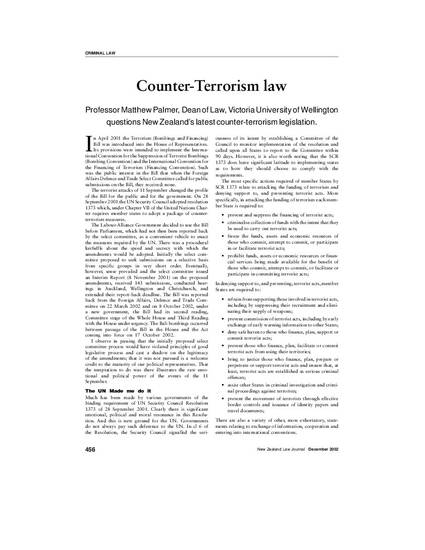 Article
"Counter-Terrorism Law"
New Zealand Law Journal (2002)
Abstract
I suggest that there is no conceptually distinct and coherent body of law we can sensibly call counter-terrorism law.
Terrorist actions are a global problem that must be tackled firmly and effectively. Legislation is a powerful symbol of commitment to do that. And, while the causes of terrorism must be addressed using multi-prong strategies, the acts of terror themselves must be dealt with by the law. But terrorist actions are the same as criminal actions; the difference is that they are politically motivated. Motivation can affect the penalties that are imposed on offenders, but motivation itself is not sensibly the subject of different offences. The effect of terrorist offending is the same as the effect of crime – most particularly, it is the same as the effect of organised crime.
So the procedural safeguards that we apply to criminal offending must be applied to "terrorist" criminal offending. Either:
(a) the safeguards are unduly inhibiting to law enforcement activity, in which case we have the balance wrong in the criminal law as well and it should be changed; or
(b) the safeguards are justified in preserving the rights and freedoms of a free and democratic society and should be equally applied to criminals who offend for political reasons as criminals who offend for other reasons.
This is why it does not make sense to try to distinguish the existence of a separate body of "law" of counter-terrorism. I suggest that to proceed otherwise is to fall victim to the very terror that was intended to be induced on September 11, 2002 and on October 12, 2002.
Publication Date
December, 2002
Citation Information
Matthew S. R. Palmer, "Counter-Terrorism Law" [2002] New Zealand Law Journal 456