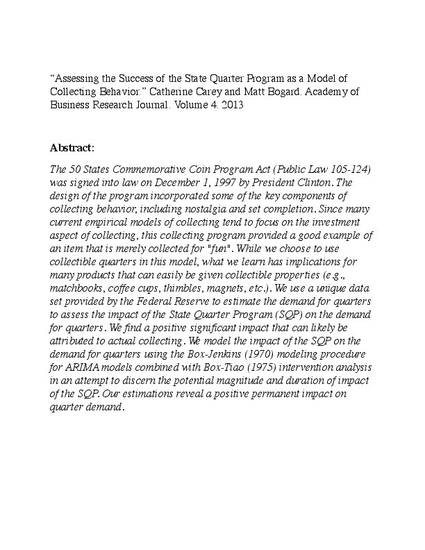 Article
"Assessing the Success of the State Quarter Program as a Model of Collecting Behavior."
Academy of Business Research Journal (2013)
Abstract
The 50 States Commemorative Coin Program Act (Public Law 105-124) was signed into law on December 1, 1997 by President Clinton. The design of the program incorporated some of the key components of collecting behavior, including nostalgia and set completion. Since many current empirical models of collecting tend to focus on the investment aspect of collecting, this collecting program provided a good example of an item that is merely collected for "fun". While we choose to use collectible quarters in this model, what we learn has implications for many products that can easily be given collectible properties (e.g., matchbooks, coffee cups, thimbles, magnets, etc.). We use a unique data set provided by the Federal Reserve to estimate the demand for quarters to assess the impact of the State Quarter Program (SQP) on the demand for quarters. We find a positive significant impact that can likely be attributed to actual collecting. We model the impact of the SQP on the demand for quarters using the Box-Jenkins (1970) modeling procedure for ARIMA models combined with Box-Tiao (1975) intervention analysis in an attempt to discern the potential magnitude and duration of impact of the SQP. Our estimations reveal a positive permanent impact on quarter demand.
Keywords
Econometrics,
Time Series,
Invervention Analysis,
ARIMA
Citation Information
Matt Bogard and Catherine Carey. ""Assessing the Success of the State Quarter Program as a Model of Collecting Behavior.""
Academy of Business Research Journal
Vol. 4 (2013) p. 94 - 116
Available at: http://works.bepress.com/matt_bogard/36/