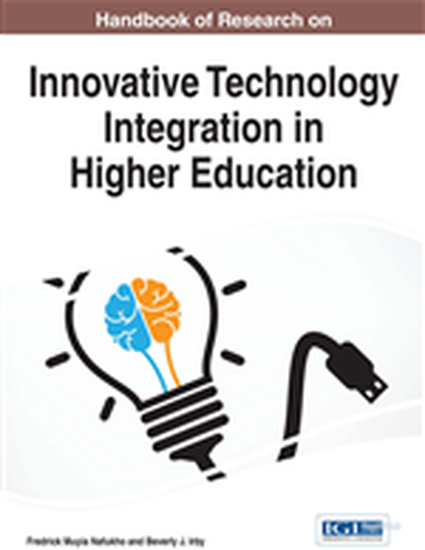 Contribution to Book
Asynchronicity, access, and attainment : best practices of an adult degree completion program.
Handbook of Research on Innovative Technology Integration in Higher Education (2015)
Abstract
In this chapter, the authors share specific ways in which the Organizational Leadership and Learning Program provides excellence in access, cost effectiveness, learning effectiveness, and faculty and student satisfaction. The program is designed to meet the needs of adult learners with some college but no degree and incorporates the use of asynchronous content delivery and faculty-student interaction. The exposure to course content via an online platform, interaction with students and faculty online, and the development of a learning community at a distance equips students not only with content knowledge, but also with technical prowess that is necessary in a technology-based workplace. Despite the relative ease of access and clear benefits of higher education, challenges still exist with educating an adult population. Therefore, it is essential that more adult friendly practices become integrated into the fabric of traditional four-year colleges and universities.
Publication Date
February, 2015
Editor
Fredrick Muyia Nafukho and Beverly J. Irby
DOI
10.4018/978-1-4666-8170-5.ch018
Citation Information
Matt J Bergman, Kevin J. Rose and Meera Alagaraja. "Asynchronicity, access, and attainment : best practices of an adult degree completion program." Hershey, PA
Handbook of Research on Innovative Technology Integration in Higher Education
(2015)
Available at: http://works.bepress.com/matt-bergman/1/