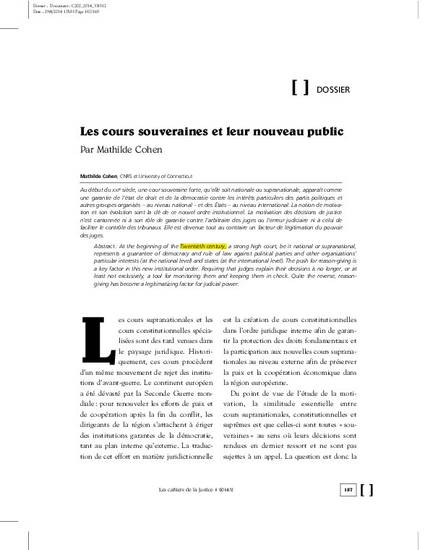 Article
Les cours souveraines et leur nouveau public
Les cahiers de la justice (2014)
Abstract
At the beginning of the Twentieth century, a strong high court, be it national or supranational, represents a guarantee of democracy and rule of law against political parties and other organizations' particular interests (at the national level) and states (at the international level). The push for reason-giving is a key factor in this new institutional order. Requiring that judges explain their decisions is no longer, or at least not exclusively, a tool for monitoring them and keeping them in check. Quite the reverse, reason- giving has become a legitimatizing factor for judicial power.
Keywords
Reason-Giving,
Courts of Last Resort
Citation Information
Mathilde Cohen. "Les cours souveraines et leur nouveau public"
Les cahiers de la justice
Vol. 8 Iss. 2 (2014)
Available at: http://works.bepress.com/mathilde_cohen/8/