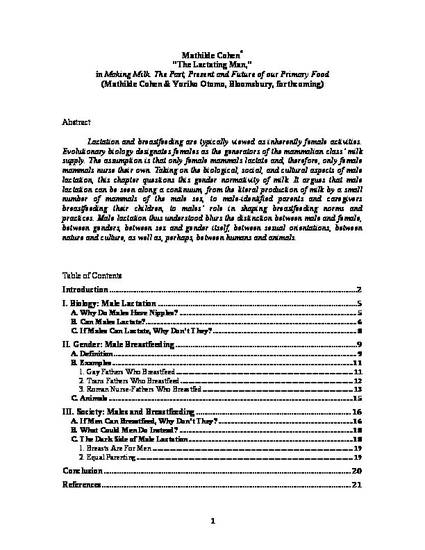 Contribution to Book
The Lactating Man
Making Milk. The Past, Present and Future of Our Primary Food (2018)
Abstract
Lactation and breastfeeding are typically viewed as inherently female activities. Evolutionary biology designates females as the generators of the mammalian class' milk supply. The assumption is that only female mammals lactate and, therefore, only female mammals nurse their own. Taking on the biological, social, and cultural aspects of male lactation, this chapter questions this gender normativity of milk. It argues that male lactation can be seen along a continuum, from the literal production of milk by a small number of mammals of the male sex, to male-identified parents and caregivers breastfeeding their children, to males' role in shaping breastfeeding norms and practices. Male lactation thus understood blurs the distinction between male and female, between genders, between sex and gender itself, between sexual orientations, between nature and culture, as well as, perhaps, between humans and animals.
Keywords
Male lactation,
Nipples,
Breast,
Breastfeeding,
Chestfeeding,
Masculinities,
Mammals,
Human Milk,
Induced Lactation.,
Gender normativity,
Queer Breastfeeding,
Trans Breastfeeding,
Eco-feminism
Editor
Mathilde Cohen & Yoriko Otomo
Citation Information
Mathilde Cohen. "The Lactating Man"
Making Milk. The Past, Present and Future of Our Primary Food
(2018)
Available at: http://works.bepress.com/mathilde_cohen/22/