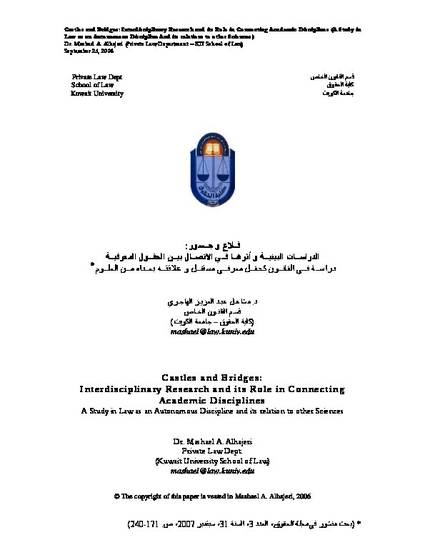 Article
قــلاع و جــسور: الدراســات البينيــة و أثرهــا فــي الاتصــال بيــن الحقــول المعرفيــة - دراســة فــي القانــون كحقــل معرفــي مستقــل و علاقتــه بعــداه مــن العلــوم *
مجلة الحقوق جامعة الكويت (2007)
Abstract
Castles and Bridges: Interdisciplinary Research and its Role in Connecting Academic Disciplines - A Study in Law as an Autonomous Discipline and its relation to other Sciences
Alhajeri, Mashael A.
The classic classification of knowledge into disciplines is an old academic tradition that dates back to the times of ancient Greece. This taxonomy survived until the middle ages, and was well established during the renaissance. Its characteristics where defined with the development of social sciences and humanities, which evolved in the late nineteenth and twentieth centuries.
The driving force behind the constant change in the boundaries between the said disciplines is the dynamic and ever changing demands of the modern society which, due to its complex nature, constantly required higher levels of specialisation.
Within this context, it is noticed that law, as an autonomous discipline, is characterised with a distinct nature that occasionally defies classification. In this respect, it is worth the mention that legal academics, unlike their peers in other disciplines, are not 'producers' of knowledge, in that they do not conduct experiments, nor do they come up with information that was not previously unknown. Rather, they study the data that is available at the disposal of decision makers, analyse it, and then present their findings to judges, legislatures, and law students. It is in this connection that law's need to interact with other disciplines is evident (particularly social sciences, such as economics, sociology, and political science), in order to better understand and revaluate these findings
Thus, the present paper proposes to elucidate the prospect of studying the law from an external perspective that investigates its connections with other disciplines. It is a perspective that did not manifest itself until the seventies of the twentieth century, through the relatively 'new' method of research known as 'Interdisciplinarity'.
The discussion aims to identify the fundamental features of the topic under investigation, some of which are: defining academic disciplines; proliferation of specializations; law as an autonomous discipline; defining interdisciplinarity; the emergence of interdisciplinary research; difficulties associated with interdisciplinarity; law and interdisciplinarity; and interdisciplinary legal research in Kuwait University School of Law.
Publication Date
Winter September, 2007
Citation Information
Mashael Alhajeri. "قــلاع و جــسور: الدراســات البينيــة و أثرهــا فــي الاتصــال بيــن الحقــول المعرفيــة - دراســة فــي القانــون كحقــل معرفــي مستقــل و علاقتــه بعــداه مــن العلــوم *"
مجلة الحقوق جامعة الكويت
Vol. 31 Iss. 3 (2007)
Available at: http://works.bepress.com/mashael_alhajeri/3/