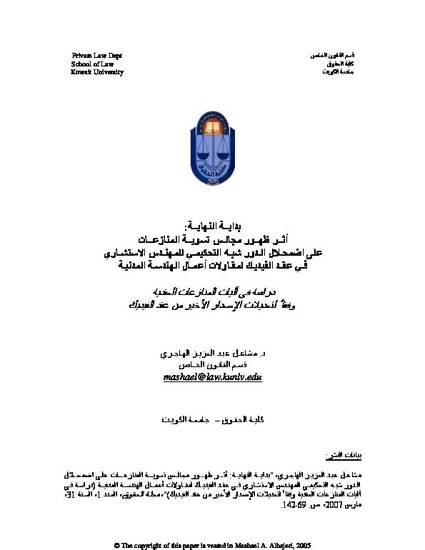 Article
بدايــة النهايــة: أثــر ظهــور مجالـس تسويــة المنازعــات على اضمحـلال الـدور شبـه التحكيمـي للمهنـدس الاستشـاري فـي عقـد الفيديـك لمقـاولات أعمـال الهندسـة المدنيـة - دراسة في آليات المنازعات العقدية وفقا ً لتعديلات الإصدار الأخير من عقد الفيديك
KuwaitUniversity Journal of Law (2007)
Abstract
Beginning of the End: Introduction of Dispute Adjudication Boards (DABs) and the Demise of Engineer's Quasi-Arbitral Role under the FIDIC Form of Contract: A Study in Contractual Dispute Mechanisms according to the Amendments Introduced by FIDIC's Latest Edition
Alhajeri, Mashael A.
This research paper presents a detailed insight into the Dispute Adjudication Boards system as method of resolving contractual disputes in civil engineering contracts, introduced by the International Federation of Consulting Engineers (FIDIC), through the amendments made to the latest edition of its model contract.
The paper argues that the immediate effect of adopting this system is the restriction of the consulting engineer's quasi-arbitral role, as traditionally promoted by FIDIC in its various model forms of construction contract.
The paper employs an analytical method, of which the following taxonomy has been used to meet the envisaged objectives:
Part I: The FIDIC Conditions of Contract and the Claim/Dispute Culture Part II: The Consulting Engineer's Quasi Arbitral Role Part III: Adjudication and Dispute Adjudication Boards (DABs)
The paper concludes with two illustrative appendices; the first being a case study of the role of Dispute Adjudication Boards as applied to a major international project (the Channel Tunnel), while the second is a flow chart demonstrating the mechanism through which disputes reach the FIDIC Dispute Adjudication Board, according to FIDIC cl. 20.
Keywords
FIDIC,
construction contracts,
civil law,
common law,
kuwait,
comparative law,
engineer,
dispute adjudication boards
Publication Date
Spring March 1, 2007
Citation Information
Mashael Alhajeri. "بدايــة النهايــة: أثــر ظهــور مجالـس تسويــة المنازعــات على اضمحـلال الـدور شبـه التحكيمـي للمهنـدس الاستشـاري فـي عقـد الفيديـك لمقـاولات أعمـال الهندسـة المدنيـة - دراسة في آليات المنازعات العقدية وفقا ً لتعديلات الإصدار الأخير من عقد الفيديك"
KuwaitUniversity Journal of Law
Vol. 31 Iss. 1 (2007)
Available at: http://works.bepress.com/mashael_alhajeri/2/