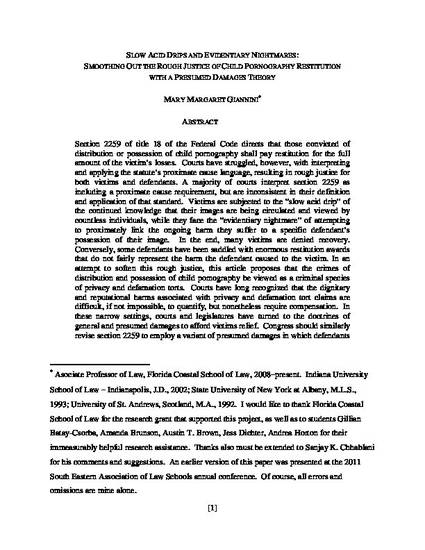 Article
Slow Acid Drips and Evidentiary Nightmares: Smoothing Out the Rough Justice of Child Pornography Restitution with a Presumed Damages Theory
49 Am. Crim. L. Rev. 1273 (2012) (2012)
Abstract
Section 2259 of title 18 of the Federal Code directs that those convicted of distribution or possession of child pornography shall pay restitution for the full amount of the victim's losses. Courts have struggled, however, with interpreting and applying the statute's proximate cause language, resulting in rough justice for both victims and defendants. A majority of courts interpret section 2259 as including a proximate cause requirement, but are inconsistent in their definition and application of that standard. Victims are subjected to the "slow acid drip" of the continued knowledge that their images are being circulated and viewed by countless individuals, while they face the "evidentiary nightmare" of attempting to proximately link the ongoing harm they suffer to a specific defendant's possession of their image. In the end, many victims are denied recovery. Conversely, some defendants have been saddled with enormous restitution awards that do not fairly represent the harm the defendant caused to the victim. In an attempt to soften this rough justice, this article proposes that the crimes of distribution and possession of child pornography be viewed as a criminal species of privacy and defamation torts. Courts have long recognized that the dignitary and reputational harms associated with privacy and defamation tort claims are difficult, if not impossible, to quantify, but nonetheless require compensation. In these narrow settings, courts and legislatures have turned to the doctrines of general and presumed damages to afford victims relief. Congress should similarly revise section 2259 to employ a variant of presumed damages in which defendants must pay victims a set statutory amount for distribution or possession of their images.
Keywords
Victms' rights,
restitution
Publication Date
September 16, 2012
Citation Information
Mary Margaret Giannini. "Slow Acid Drips and Evidentiary Nightmares: Smoothing Out the Rough Justice of Child Pornography Restitution with a Presumed Damages Theory"
49 Am. Crim. L. Rev. 1273 (2012)
(2012)
Available at: http://works.bepress.com/marymargaret_giannini/1/