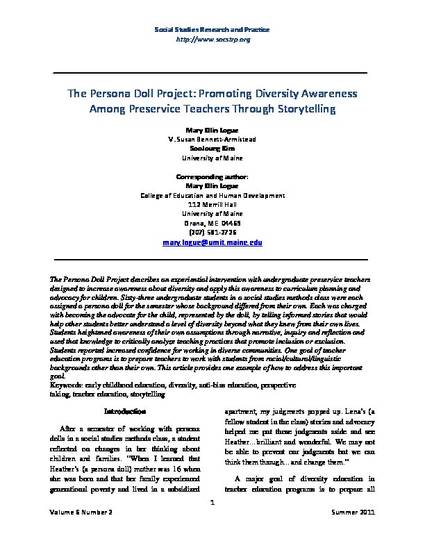 Article
The Persona Doll Project: Promoting Diversity Awareness Among Preservice Teachers Through Storytelling
Social Studies Research and Practice
Publisher
Social Studies Research and Practice
Publication Date
7-1-2011
Abstract/ Summary
The Persona Doll Project describes an experiential intervention with undergraduate preservice teachers designed to increase awareness about diversity and apply this awareness to curriculum planning and advocacy for children. Sixty-three undergraduate students in a social studies methods class were each assigned a persona doll for the semester whose background differed from their own. Each was charged with becoming the advocate for the child, represented by the doll, by telling informed stories that would help other students better understand a level of diversity beyond what they knew from their own lives. Students heightened awareness of their own assumptions through narrative, inquiry and reflection and used that knowledge to critically analyze teaching practices that promote inclusion or exclusion. Students reported increased confidence for working in diverse communities. One goal of teacher education programs is to prepare teachers to work with students from racial/cultural/linguistic backgrounds other than their own. This article provides one example of how to address this important goal.
Version
publisher's version of the published document
Citation Information
Mary Ellin Logue, V. Susan Bennett-Armistead and SooJoung Kim. "The Persona Doll Project: Promoting Diversity Awareness Among Preservice Teachers Through Storytelling"
Social Studies Research and Practice
Vol. 6 Iss. 2 (2011)
Available at: http://works.bepress.com/maryellin_logue/2/