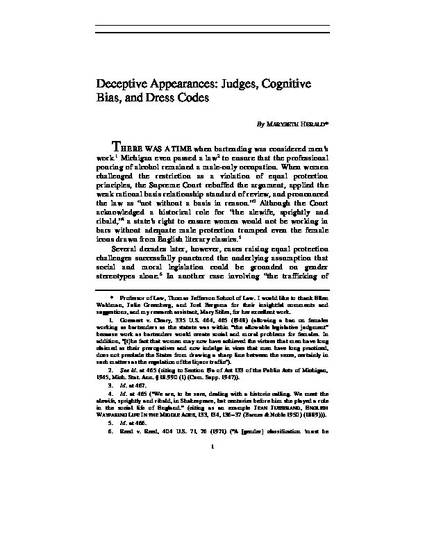 Article
Deceptive Appearances: Judges, Cognitive Bias, and Dress Codes
University of San Francisco Law Review (2007)
Abstract
Although it is no longer legal to deny women the right to work simply because they are women, an employer can still require women conform to gender-based appearance norms in order to keep their jobs. In some industries, lipstick, foundation, mascara, and blush remain essential components of a woman's professional uniform. In these industries, men are spared the obligation of cosmetic upkeep, because only women must don face-paint to appear comfortably recognizable to customers.
Why this differential dress-code is not considered discrimination on the basis of sex under Title VII is the mystery. The textual force of anti-discrimination law would seem to bar such obvious gender-based distinctions, but biases emerge in the law's application. The cognitive mechanisms at work in this area continue to blind judges to the gendered nature of employers' demands. The status quo bias, the representative heuristic, and framing influence the drive to limit the reach of anti-discrimination law.
Social science evidence suggests that we resist change, leading judges to privilege gender biased rules under the guise of social and cultural norms. The courts' intuitive – and unsupported - finding that gendered dress is not related to equal employment opportunities is undercut by studies showing that gender-based appearance rules set us up for prejudicial judgments. Judges also rely heavily on their ability to creatively frame their policy decisions. Rulings permit gender-based dress requirements by emphasizing that a dress code exists for all workers, even though the content dramatically differs for each sex. This framing masks the gendered assumptions that drive the court's policy preferences. This article identifies the cognitive biases lurking beneath the waterline of judicial decision-making and discusses their role in producing decisions at odds with Title VII's goal of eradicating employment discrimination. Exposing the unconscious linkages that gender still evokes – both in terms of how we expect men and women to look - and how we expect them to act - should lead judges to sounder applications of Title VII law in the appearance-code cases.
Keywords
gender,
sex,
civil rights,
Title VII,
appearance,
dress codes,
grooming,
cognitive bias,
judges,
discrimination,
judicial bias,
equality,
stereotypes,
make-up
Publication Date
May, 2007
Citation Information
Marybeth Herald. "Deceptive Appearances: Judges, Cognitive Bias, and Dress Codes"
University of San Francisco Law Review
Vol. 41 Iss. 3 (2007)
Available at: http://works.bepress.com/marybeth_herald/8/