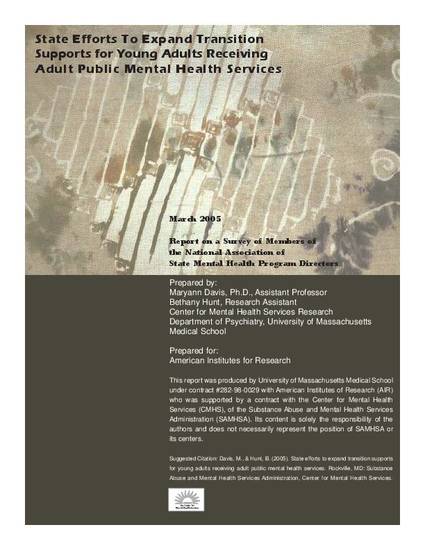 Other
State Efforts To Expand Transition Supports for Young Adults Receiving Adult Public Mental Health Services
Systems and Psychosocial Advances Research Center Publications and Presentations
UMMS Affiliation
Department of Psychiatry
Publication Date
1-1-2005
Subjects
Young Adult; Adolescent; Adolescent Health Services; Child; Child Health Services; Mental Disorders; Mental Health Services
Abstract
Summary: Psychiatric disorders present during the transition to adulthood (ages 16-30) impede the development of adult role functioning. Most adolescents with serious mental health conditions continue to have those conditions into adulthood, and many adults with psychiatric disorders developed those conditions at the threshold of adulthood (ages 18-21). Taken together, these findings from various studies confirm that, whether psychiatric disorders develop before or during the transition to adulthood, their presence seriously hinders the successful assumption of adult roles. These findings underline the importance of mental health (MH) services throughout this stage of life, and the need for interventions that facilitate the development of adult functioning. Adolescents and young adults with serious mental health conditions may receive services from a variety of service systems, including special education, child welfare, vocational rehabilitation and the like. However, the target populations for all but state MH systems are much more broadly defined than those with serious mental health conditions. Thus, it is important to know what is being done within state MH systems to address the transition needs of their adolescents and young adult clients. Further, transition support innovations from these systems could be a critical resource for the development and dissemination of programs, strategies, and technical assistance to improve transition support targeted at adolescents and young adults with serious MH conditions in all systems. A previous study of all U.S. state child MH systems showed that almost all were at least talking about the need to provide and improve transition support services, and most provided some, although limited, transition support services (Davis, 2001; Davis & Sondheimer, 2005). One of the ultimate limitations though, was the upper age limit of their services; most ending at age 18, with a smaller number extending to age 21. Thus, the primary agency that can address the continued transition and MH needs of young adults with serious MH conditions after ages 18-21 is the state adult MH system. There is no current literature on transition services or services for young adults within state adult MH systems. The present study was designed to parallel the earlier study of the child MH system, and describe efforts that state adult MH systems were making to address the needs of their young adult population transitioning into adulthood.
Source
Davis, M., & Hunt, B. (2005).
State Efforts To Expand Transition Supports for Young Adults Receiving Adult Public Mental Health Services.
Rockville, MD: U.S. Substance Abuse and Mental Health Services Administration, Center for Mental Health Services.
Citation Information
Maryann Davis and Bethany Hunt. "State Efforts To Expand Transition Supports for Young Adults Receiving Adult Public Mental Health Services" (2005)
Available at: http://works.bepress.com/maryann_davis/1/