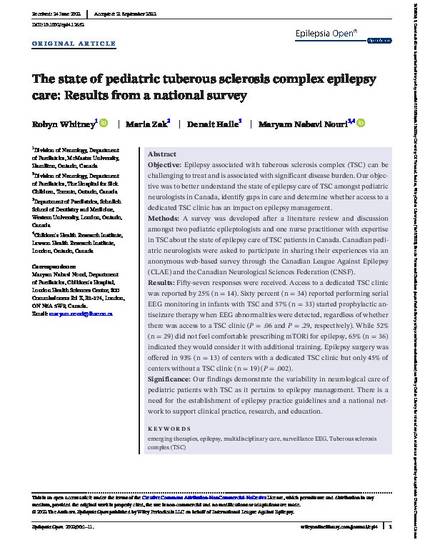 Article
The state of pediatric tuberous sclerosis complex epilepsy care Results from a national.pdf
Epilepsia Open (2022)
Abstract
Objective: Epilepsy associated with tuberous sclerosis complex (TSC) can be
challenging to treat and is associated with significant disease burden. Our objective
was to better understand the state of epilepsy care of TSC amongst pediatric
neurologists in Canada, identify gaps in care and determine whether access to a
dedicated TSC clinic has an impact on epilepsy management.
Methods: A survey was developed after a literature review and discussion
amongst two pediatric epileptologists and one nurse practitioner with expertise
in TSC about the state of epilepsy care of TSC patients in Canada. Canadian pediatric
neurologists were asked to participate in sharing their experiences via an
anonymous web-based
survey through the Canadian League Against Epilepsy
(CLAE) and the Canadian Neurological Sciences Federation (CNSF).
Results: Fifty-seven
responses were received. Access to a dedicated TSC clinic
was reported by 25% (n = 14). Sixty percent (n = 34) reported performing serial
EEG monitoring in infants with TSC and 57% (n = 33) started prophylactic antiseizure
therapy when EEG abnormalities were detected, regardless of whether
there was access to a TSC clinic (P = .06 and P = .29, respectively). While 52%
(n = 29) did not feel comfortable prescribing mTORi for epilepsy, 65% (n = 36)
indicated they would consider it with additional training. Epilepsy surgery was
offered in 93% (n = 13) of centers with a dedicated TSC clinic but only 45% of
centers without a TSC clinic (n = 19) (P = .002).
Significance: Our findings demonstrate the variability in neurological care of
pediatric patients with TSC as it pertains to epilepsy management. There is a
need for the establishment of epilepsy practice guidelines and
Publication Date
Fall September 19, 2022
Citation Information
Maryam Nouri and Robyn Whitney. "The state of pediatric tuberous sclerosis complex epilepsy care Results from a national.pdf"
Epilepsia Open
(2022)
Available at: http://works.bepress.com/maryam-nouri/13/