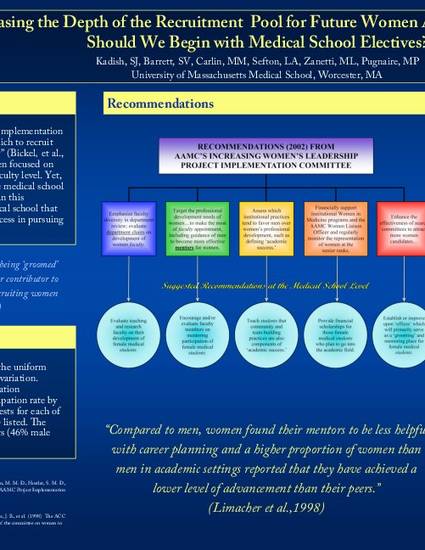 Presentation
Increasing the Depth of the Recruitment Pool for Future Women Academic Leaders: Should We Begin with Medical School Electives?
Office of Institutional Research, Evaluation, and Assessment Publications and Presentations
UMMS Affiliation
Office of Educational Affairs, Division of Research and Evaluation
Publication Date
11-1-2006
Subjects
Education, Medical, Undergraduate; Women; Leadership; Faculty; Schools, Medical; Academic Medical Centers
Abstract
A 2002 report from the AAMC Project Implementation Committee indicated, "The pool from which to recruit women academic leaders remains shallow" (Bickel, et al., 2002). Since hen, much attention has been focused on improving conditions for women at the faculty level. Yet, few studies address the possibility that the medical school experience could impact the initial depth in this recruitment pool. Is there a trend in medical school that may be negatively impacting women's success in pursuing a career in academia? Presented at the AAMC (Association of American Colleges) Annual Meeting, RIME (Research in Medical Education) Program, November 2006.
Citation Information
Stacey J. Kadish, Susan V. Barrett, Michele M. Carlin, Laura A. Sefton, et al.. "Increasing the Depth of the Recruitment Pool for Future Women Academic Leaders: Should We Begin with Medical School Electives?" (2006)
Available at: http://works.bepress.com/mary_zanetti/12/