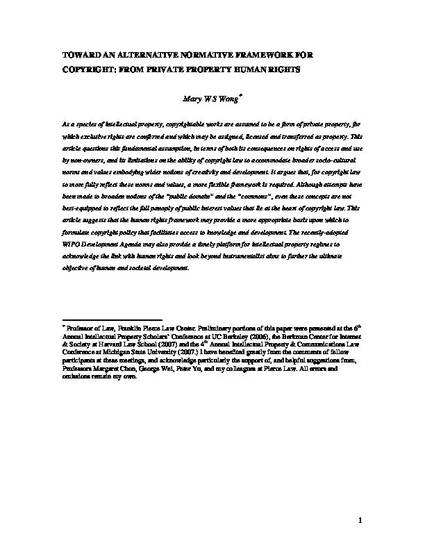 Unpublished Paper
Toward an Alternative Normative Framework for Copyright: From Private Property to Human Rights
ExpressO (2008)
Abstract
As a species of intellectual property, copyrightable works are assumed to be a form of private property, for which exclusive rights are conferred and which may be assigned, licensed and transferred as property. This article questions this fundamental assumption, in terms of both its consequences on rights of access and use by non-owners, and its limitations on the ability of copyright law to accommodate broader socio-cultural norms and values embodying wider notions of creativity and development. It argues that, for copyright law to more fully reflect these norms and values, a more flexible framework is required. Although attempts have been made to broaden notions of the "public domain" and the "commons", even these concepts are not best-equipped to reflect the full panoply of public interest values that lie at the heart of copyright law. This article suggests that the human rights framework may provide a more appropriate basis upon which to formulate copyright policy that facilitates access to knowledge and development. The recently-adopted WIPO Development Agenda may also provide a timely platform for intellectual property regimes to acknowledge the link with human rights and look beyond instrumentalist aims to further the ultimate objective of human and societal development.
Keywords
copyright,
access to knowledge,
development,
property,
public domain,
commons,
human rights,
WIPO Development Agenda
Publication Date
March 6, 2008
Citation Information
Mary Wong. "Toward an Alternative Normative Framework for Copyright: From Private Property to Human Rights"
ExpressO
(2008)
Available at: http://works.bepress.com/mary_wong/2/