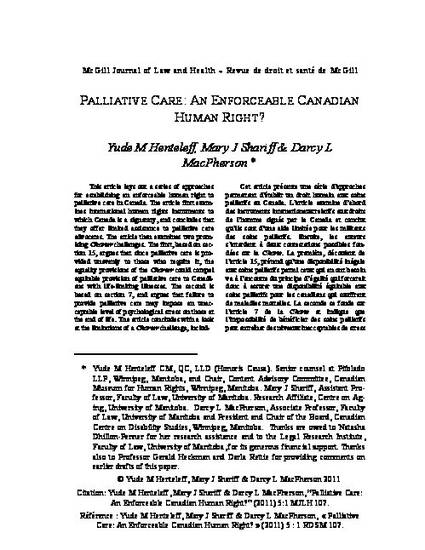 Article
Palliative Care: An Enforceable Canadian Human Right?
McGill Journal of Law and Health (2011)
Abstract
This article lays out a series of approaches for establishing an enforceable human right to palliative care in Canada. The article first examines international human rights instruments to which Canada is a signatory, and concludes that they offer limited assistance to palliative care advocates. The article then examines two promising Charter challenges. The first, based on section 15, argues that since palliative care is provided unevenly to those who require it, the equality provisions of the Charter could compel equitable provision of palliative care to Canadians with life-limiting illnesses. The second is based on section 7, and argues that failure to provide palliative care may impose an unacceptable level of psychological stress on those at the end of life. The article concludes with a look at the limitations of a Charter challenge, includ-ing justification under section 1 of the Charter, and the lack of empirical evidence necessary to conclusively prove the arguments advanced under sections 15 and 7.
Keywords
palliative care,
human right to palliative care,
palliative care as a human right,
Charter arguments for palliative care
Publication Date
September, 2011
Citation Information
Yude M. Henteleff, Mary J. Shariff and Darcy L. MacPherson. "Palliative Care: An Enforceable Canadian Human Right?"
McGill Journal of Law and Health
Vol. 5 Iss. 1 (2011)
Available at: http://works.bepress.com/mary_shariff/26/