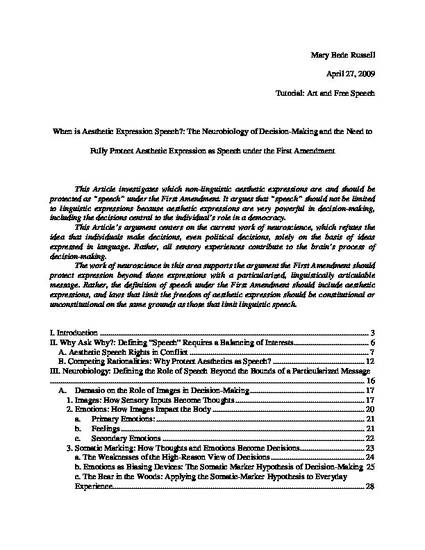 Unpublished Paper
When is Aesthetic Expression Speech?: The Neurobiology of Decision-Making and the Need to Fully Protect Aesthetic Expression as Speech under the First Amendment
ExpressO (2010)
Abstract
This Article investigates which non-linguistic aesthetic expressions are and should be protected as "speech" under the First Amendment. It argues that "speech" should not be limited to linguistic expressions because aesthetic expressions are very powerful in decision-making, including the decisions central to the individual's role in a democracy. This Article's argument centers on the current work of neuroscience, which refutes the idea that individuals make decisions, even political decisions, solely on the basis of ideas expressed in language. Rather, all sensory experiences contribute to the brain's process of decision-making. The work of neuroscience in this area supports the argument the First Amendment should protect expression beyond those expressions with a particularized, linguistically articulable message. Rather, the definition of speech under the First Amendment should include aesthetic expressions, and laws that limit the freedom of aesthetic expression should be constitutional or unconstitutional on the same grounds as those that limit linguistic speech.
Keywords
Art; Free Speech; Neuroscience
Publication Date
September 5, 2010
Citation Information
Mary B. Russell. "When is Aesthetic Expression Speech?: The Neurobiology of Decision-Making and the Need to Fully Protect Aesthetic Expression as Speech under the First Amendment"
ExpressO
(2010)
Available at: http://works.bepress.com/mary_russell/1/