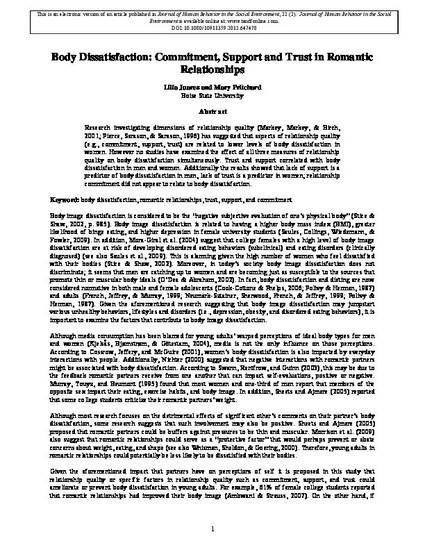 Article
Body Dissatisfaction: Commitment, Support and Trust in Romantic Relationships
Journal of Human Behavior in the Social Environment
Publication Date
2-1-2012
Abstract
Research investigating dimensions of relationship quality (Markey, Markey, & Birch, 2001; Pierce, Sarason, & Sarason, 1996) has suggested that aspects of relationship quality (e.g., commitment, support, trust) are related to lower levels of body dissatisfaction in women. However no studies have examined the effect of all three measures of relationship quality on body dissatisfaction simultaneously. Trust and support correlated with body dissatisfaction in men and women. Additionally the results showed that lack of support is a predictor of body dissatisfaction in men, lack of trust is a predictor in women; relationship commitment did not appear to relate to body dissatisfaction.
Copyright Statement
This is an electronic version of an article published in Journal of Human Behavior in the Social Environment, 22 (2). Journal of Human Behavior in the Social Environment is available online at http://www.tandfonline.com. DOI: 10.1080/10911359.2012.647478
Citation Information
Lilia Juarez and Mary Pritchard. "Body Dissatisfaction: Commitment, Support and Trust in Romantic Relationships"
Journal of Human Behavior in the Social Environment
(2012)
Available at: http://works.bepress.com/mary_pritchard/49/