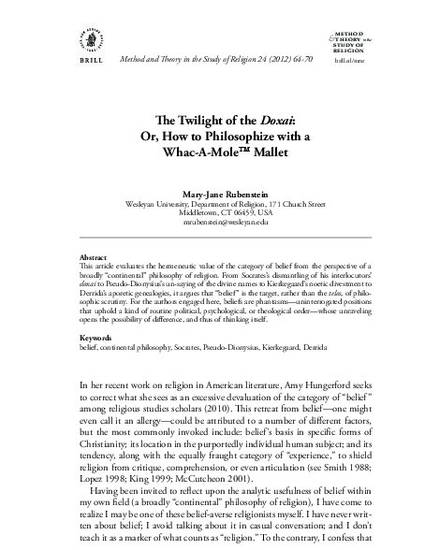 Article
The Twilight of the Doxai: Or, How to Philosophize with a Whac-a-Mole(TM) Mallet
Method and Theory in the Study of Religion (2012)
Abstract
This article evaluates the hermeneutic value of the category of belief from the perspective of a broadly "continental" philosophy of religion. From Socrates's dismantling of his interlocutors' doxai to Pseudo-Dionysius's un-saying of the divine names to Kierkegaard's noetic divestment to Derrida's aporetic genealogies, it argues that "belief " is the target, rather than the telos, of philo- sophic scrutiny. For the authors engaged here, beliefs are phantasms—uninterrogated positions that uphold a kind of routine political, psychological, or theological order—whose unraveling opens the possibility of difference, and thus of thinking itself.
Keywords
belief,
continental philosophy,
Socrates,
Pseudo-Dionysius,
Kierkegaard,
Derrida
Citation Information
Mary-Jane V. Rubenstein. "The Twilight of the Doxai: Or, How to Philosophize with a Whac-a-Mole(TM) Mallet"
Method and Theory in the Study of Religion
Vol. 24 Iss. 1 (2012)
Available at: http://works.bepress.com/mary_jane_rubenstein/9/