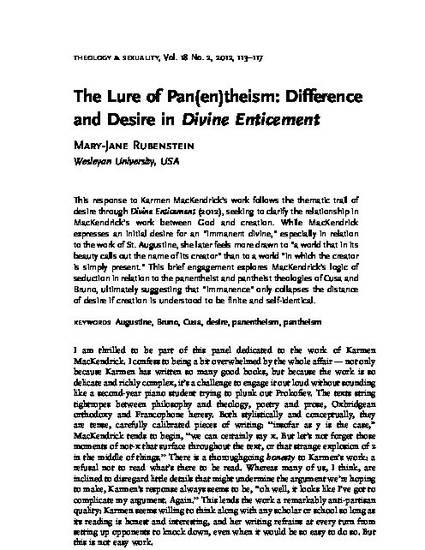 Article
The Lure of Pan(en)theism: Difference and Desire in _Divine Enticement_
Theology and Sexuality (2012)
Abstract
This response to Karmen MacKendrick's work follows the thematic trail of desire through Divine Enticement (2012), seeking to clarify the relationship in MacKendrick's work between God and creation. While MacKendrick expresses an initial desire for an "immanent divine," especially in relation to the work of St. Augustine, she later feels more drawn to "a world that in its beauty calls out the name of its creator" than to a world "in which the creator is simply present." This brief engagement explores MacKendrick's logic of seduction in relation to the panentheist and pantheist theologies of Cusa and Bruno, ultimately suggesting that "immanence" only collapses the distance of desire if creation is understood to be finite and self-identical.
Keywords
Augustine,
Bruno,
Cusa,
desire,
panentheism,
pantheism
Citation Information
Mary-Jane V Rubenstein. "The Lure of Pan(en)theism: Difference and Desire in _Divine Enticement_"
Theology and Sexuality
Vol. 18 Iss. 2 (2012)
Available at: http://works.bepress.com/mary_jane_rubenstein/33/