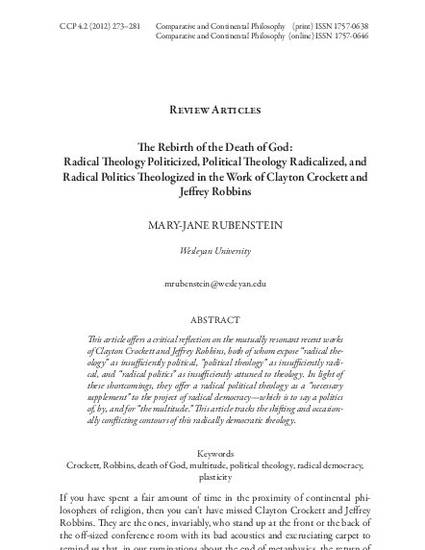 Article
The Rebirth of the Death of God: Radical Theology Politicized, Political Theology Radicalized, and Radical Politics Theologized in the Work of Clayton Crockett and Jeffrey Robbins
Comparative and Continental Philosophy (2012)
Abstract
This article offers a critical reflection on the mutually resonant recent works of Clayton Crockett and Jeffrey Robbins, both of whom expose "radical the- ology" as insufficiently political, "political theology" as insufficiently radi- cal, and "radical politics" as insufficiently attuned to theology. In light of these shortcomings, they offer a radical political theology as a "necessary supplement" to the project of radical democracy—which is to say a politics of, by, and for "the multitude." This article tracks the shifting and occasion- ally conflicting contours of this radically democratic theology.
Keywords
Crockett,
Robbins,
death of God,
multitude,
political theology,
radical democracy,
plasticity
Citation Information
Mary-Jane V Rubenstein. "The Rebirth of the Death of God: Radical Theology Politicized, Political Theology Radicalized, and Radical Politics Theologized in the Work of Clayton Crockett and Jeffrey Robbins"
Comparative and Continental Philosophy
Vol. 4 Iss. 2 (2012)
Available at: http://works.bepress.com/mary_jane_rubenstein/29/