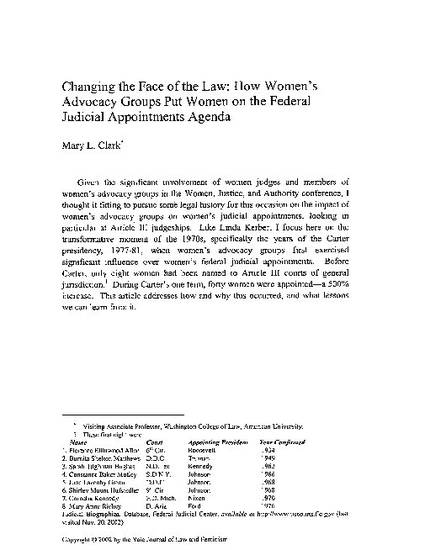 Article
Changing the Face of the Law: How Women's Advocacy Groups Put Women on the Federal Judicial Appointments Agenda
Yale Journal of Law & Feminism
Abstract
Given the significant involvement of women judges and members of women's advocacy groups in the Women, Justice, and Authority conference, I thought it fitting to pursue some legal history for this occasion on the impact of women's advocacy groups on women's judicial appointments, looking in particular at Article III judgeships. Like Linda Kerber, I focus here on the transformative moment of the 1970s, specifically the years of the Carter presidency, 1977-81, when women's advocacy groups first exercised significant influence over women's federal judicial appointments. Before Carter, only eight women had been named to Article III courts of general jurisdiction. During Carter's one term, forty women were appointed-a 500% increase. This article addresses how and why this occurred, and what lessons we can learn from it.
Citation Information
Mary L Clark. "Changing the Face of the Law: How Women's Advocacy Groups Put Women on the Federal Judicial Appointments Agenda"
Available at: http://works.bepress.com/mary_clark/13/