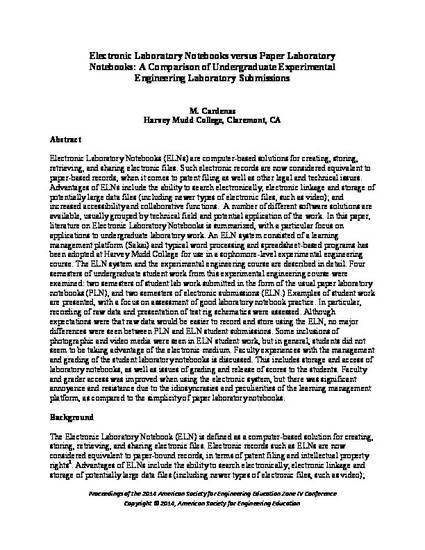 Article
Electronic Laboratory Notebooks versus Paper Laboratory Notebooks: A Comparison of Undergraduate Experimental Engineering Laboratory Submissions
Proceedings of the 2014 American Society for Engineering Education Zone IV Conference (2014)
Abstract
Electronic Laboratory Notebooks (ELNs) are computer-based solutions for creating, storing, retrieving, and sharing electronic files. Such electronic records are now considered equivalent to paper-based records, when it comes to patent filing as well as other legal and technical issues. Advantages of ELNs include the ability to search electronically; electronic linkage and storage of potentially large data files (including newer types of electronic files, such as video); and increased accessibility and collaborative functions. A number of different software solutions are available, usually grouped by technical field and potential application of the work. In this paper, literature on Electronic Laboratory Notebooks is summarized, with a particular focus on applications to undergraduate laboratory work. An ELN system consisted of a learning management platform (Sakai) and typical word processing and spreadsheet-based programs has been adopted at Harvey Mudd College for use in a sophomore-level experimental engineering course. The ELN system and the experimental engineering course are described in detail. Four semesters of undergraduate student work from this experimental engineering course were examined: two semesters of student lab work submitted in the form of the usual paper laboratory notebooks (PLN), and two semesters of electronic submissions (ELN.) Examples of student work are presented, with a focus on assessment of good laboratory notebook practice. In particular, recording of raw data and presentation of test rig schematics were assessed. Although expectations were that raw data would be easier to record and store using the ELN, no major differences were seen between PLN and ELN student submissions. Some inclusions of photographic and video media were seen in ELN student work, but in general, students did not seem to be taking advantage of the electronic medium. Faculty experiences with the management and grading of the student laboratory notebooks is discussed. This includes storage and access of laboratory notebooks, as well as issues of grading and release of scores to the students. Faculty and grader access was improved when using the electronic system, but there was significant annoyance and resistance due to the idiosyncrasies and peculiarities of the learning management platform, as compared to the simplicity of paper laboratory notebooks.
Keywords
Experimental,
laboratory notebooks
Publication Date
Spring April, 2014
Citation Information
Mary Cardenas. "Electronic Laboratory Notebooks versus Paper Laboratory Notebooks: A Comparison of Undergraduate Experimental Engineering Laboratory Submissions"
Proceedings of the 2014 American Society for Engineering Education Zone IV Conference
(2014)
Available at: http://works.bepress.com/mary_cardenas/14/