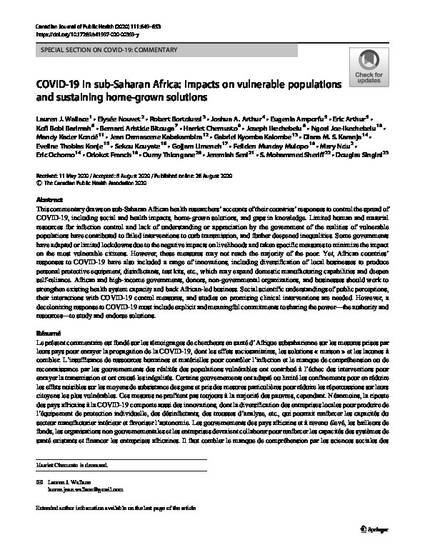 Article
COVID-19 in sub-Saharan Africa: impacts on vulnerable populations and sustaining home-grown solutions
Canadian Journal of Public Health
Publication Date
10-1-2020
URL with Digital Object Identifier
10.17269/s41997-020-00399-y
Abstract
© 2020, The Canadian Public Health Association. This commentary draws on sub-Saharan African health researchers' accounts of their countries' responses to control the spread of COVID-19, including social and health impacts, home-grown solutions, and gaps in knowledge. Limited human and material resources for infection control and lack of understanding or appreciation by the government of the realities of vulnerable populations have contributed to failed interventions to curb transmission, and further deepened inequalities. Some governments have adapted or limited lockdowns due to the negative impacts on livelihoods and taken specific measures to minimize the impact on the most vulnerable citizens. However, these measures may not reach the majority of the poor. Yet, African countries' responses to COVID-19 have also included a range of innovations, including diversification of local businesses to produce personal protective equipment, disinfectants, test kits, etc., which may expand domestic manufacturing capabilities and deepen self-reliance. African and high-income governments, donors, non-governmental organizations, and businesses should work to strengthen existing health system capacity and back African-led business. Social scientific understandings of public perceptions, their interactions with COVID-19 control measures, and studies on promising clinical interventions are needed. However, a decolonizing response to COVID-19 must include explicit and meaningful commitments to sharing the power—the authority and resources—to study and endorse solutions.
Citation Information
Lauren J. Wallace, Elysée Nouvet, Robert Bortolussi, Joshua A. Arthur, et al.. "COVID-19 in sub-Saharan Africa: impacts on vulnerable populations and sustaining home-grown solutions"
Canadian Journal of Public Health
Vol. 111 Iss. 5 (2020) p. 649 - 653
Available at: http://works.bepress.com/mary-ndu/1/