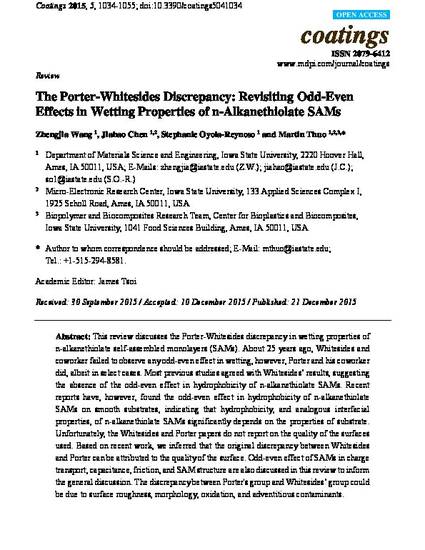 Article
The Porter-Whitesides Discrepancy: Revisiting Odd-Even Effects in Wetting Properties of n-Alkanethiolate SAMs
Coatings
Publication Version
Published Version
Publication Date
1-1-2015
DOI
10.3390/coatings5041034
Abstract
This review discusses the Porter-Whitesides discrepancy in wetting properties of n-alkanethiolate self-assembled monolayers (SAMs). About 25 years ago, Whitesides and coworker failed to observe any odd-even effect in wetting, however, Porter and his coworker did, albeit in select cases. Most previous studies agreed with Whitesides' results, suggesting the absence of the odd-even effect in hydrophobicity of n-alkanethiolate SAMs. Recent reports have, however, found the odd-even effect in hydrophobicity of n-alkanethiolate SAMs on smooth substrates, indicating that hydrophobicity, and analogous interfacial properties, of n-alkanethiolate SAMs significantly depends on the properties of substrate. Unfortunately, the Whitesides and Porter papers do not report on the quality of the surfaces used. Based on recent work, we inferred that the original discrepancy between Whitesides and Porter can be attributed to the quality of the surface. Odd-even effect of SAMs in charge transport, capacitance, friction, and SAM structure are also discussed in this review to inform the general discussion. The discrepancy between Porter's group and Whitesides' group could be due to surface roughness, morphology, oxidation, and adventitious contaminants.
Creative Commons License
Creative Commons Attribution 4.0 International
Copyright Owner
The Authors
File Format
application/pdf
Citation Information
Zhengjia Wang, Jiahao Chen, Stephanie Oyola-Reynoso and Martin M. Thuo. "The Porter-Whitesides Discrepancy: Revisiting Odd-Even Effects in Wetting Properties of n-Alkanethiolate SAMs"
Coatings
Vol. 5 Iss. 4 (2015) p. 1034 - 1055
Available at: http://works.bepress.com/martin_thuo/33/