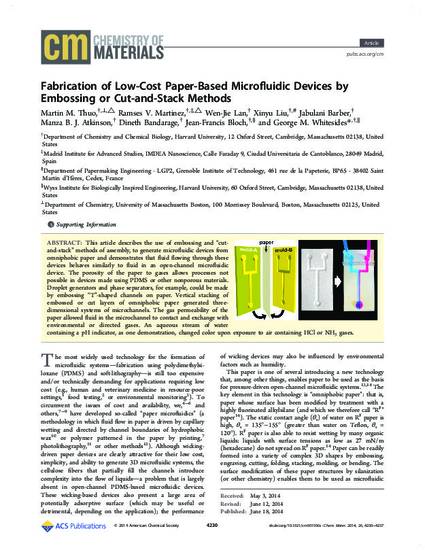 Article
Fabrication of Low-Cost Paper-Based Microfluidic Devices by Embossing or Cut-and-Stack Methods
Chemistry of Materials (2014)
Abstract
This article describes the use of embossing and "cut-and-stack" methods of assembly, to generate microfluidic devices from omniphobic paper and demonstrates that fluid flowing through these devices behaves similarly to fluid in an open-channel microfluidic device. The porosity of the paper to gases allows processes not possible in devices made using PDMS or other nonporous materials. Droplet generators and phase separators, for example, could be made by embossing "T"-shaped channels on paper. Vertical stacking of embossed or cut layers of omniphobic paper generated three-dimensional systems of microchannels. The gas permeability of the paper allowed fluid in the microchannel to contact and exchange with environmental or directed gases. An aqueous stream of water containing a pH indicator, as one demonstration, changed color upon exposure to air containing HCl or NH3 gases.
Publication Date
June, 2014
Citation Information
Martin M. Thuo, Ramses V. Martinez, Wen-Jie Lan, Xinyu Liu, et al.. "Fabrication of Low-Cost Paper-Based Microfluidic Devices by Embossing or Cut-and-Stack Methods"
Chemistry of Materials
Vol. 26 Iss. 14 (2014)
Available at: http://works.bepress.com/martin_thuo/12/