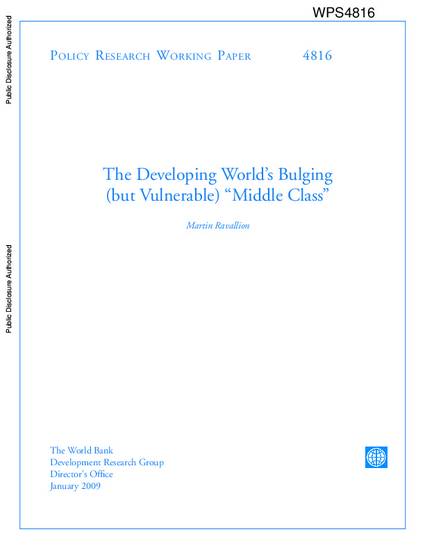 Unpublished Paper
The Developing World's Bulging (But Vulnerable) Middle Class
Policy Research Working Paper 4816 World Bank (2009)
Abstract
The "developing world's middle class" is defined as those who live above the median poverty line of developing countries but are still poor by US standards; the "Western middle class" are those not poor by US standards. Although barely 80 million people in the developing world entered the Western middle class over 1990-2002, economic growth and global distributional shifts allowed an extra 1.2 billion people to join the developing world's middle class. Four-fifths came from Asia, and half from China. Most remained fairly close to poverty, with incomes bunched up just above $2 a day. One in six people now live between $2 and $3 per day. The developing world has become more sharply divided between countries with a large middle class and those with a relatively small one, with Africa prominent in the latter group. Implications are drawn for growth and poverty reduction, the Millennium Development Goals and vulnerability to the global economic crisis.
Keywords
Poverty,
middle class,
polarization,
economic growth
Publication Date
January, 2009
Citation Information
Martin Ravallion. "The Developing World's Bulging (But Vulnerable) Middle Class"
Policy Research Working Paper 4816 World Bank
(2009)
Available at: http://works.bepress.com/martin_ravallion/14/