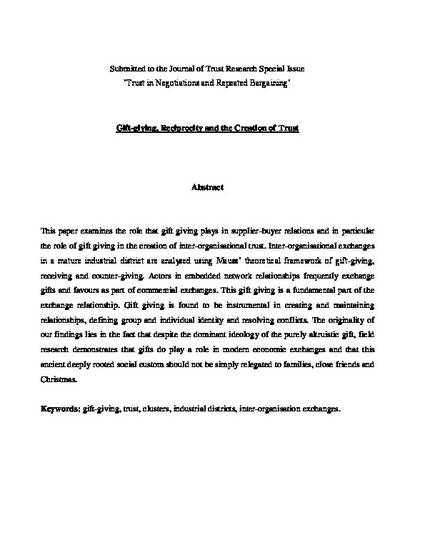 Article
Gift giving, Reciprocity and the Creation of Trust Journal of Trust Research.doc
Journal of Trust research (2017)
Abstract
This paper examines the role that gift giving plays in supplier-buyer relations and in particular the role of gift giving in the creation of inter-organisational trust. Inter-organisational exchanges in a mature industrial district are analysed using Mauss' theoretical framework of gift-giving, receiving and counter-giving. Actors in embedded network relationships frequently exchange gifts and favours as part of commercial exchanges. This gift giving is a fundamental part of the exchange relationship. Gift giving is found to be instrumental in creating and maintaining relationships, defining group and individual identity and resolving conflicts. The originality of our findings lies in the fact that despite the dominant ideology of the purely altruistic gift, field research demonstrates that gifts do play a role in modern economic exchanges and that this ancient deeply rooted social custom should not be simply relegated to families, close friends and Christmas.
Keywords
Trust,
gifts,
reciprocity
Citation Information
Martin Mathews. "Gift giving, Reciprocity and the Creation of Trust Journal of Trust Research.doc"
Journal of Trust research
(2017)
Available at: http://works.bepress.com/martin_mathews/15/