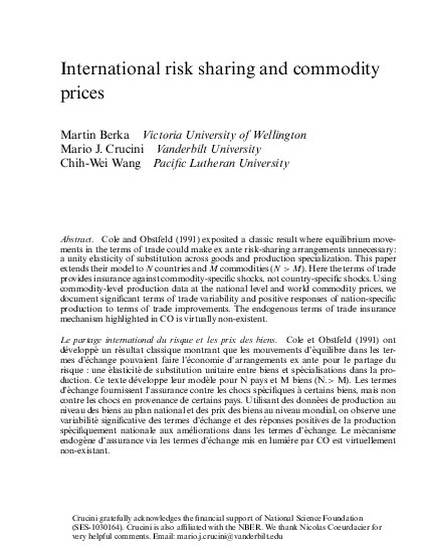 Article
International risk sharing and commodity prices
Canadian Journal of Economics (2012)
Abstract
Cole and Obstfeld (1991) exposited a classic result where equilibrium movements in the terms of trade could make ex ante risk-sharing arrangements unnecessary: a unity elasticity of substitution across goods and production specialization. This paper extends their model to N countries and M commodities (N > M). Here the terms of trade provides insurance against commodity-specific shocks, not country-specific shocks. Using commodity-level production data at the national level and world commodity prices, we document significant terms of trade variability and positive responses of nation-specific production to terms of trade improvements. The endogenous terms of trade insurance mechanism highlighted in CO is virtually non-existent.
Publication Date
May, 2012
Citation Information
Martin Berka, Mario Crucini and Chih-Wei Wang. "International risk sharing and commodity prices"
Canadian Journal of Economics
Vol. 45 Iss. 2 (2012)
Available at: http://works.bepress.com/martin_berka/11/