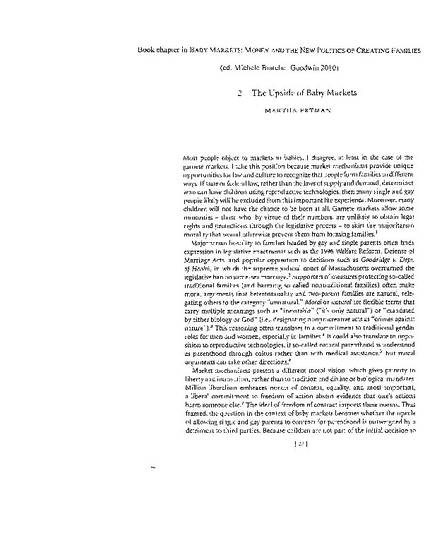 Contribution to Book
The Upside of Baby Markets
Baby Markets: Money and the New Politics of Creating Families (2010)
Abstract
Few think there is an upside to baby markets. This chapter challenges conventional wisdom by suggesting that marketizing parenthood through the sale of gametes and other reproductive technologies facilitates family formation by single and gay people. After briefly reviewing literature, it defends commercialization of human eggs and sperm and applies those defenses to embryo markets.
Editor
Michele Bratcher Goodwin
Publisher
Cambridge University Press
Citation Information
Martha M. Ertman. "The Upside of Baby Markets"
Baby Markets: Money and the New Politics of Creating Families
(2010)
Available at: http://works.bepress.com/martha_ertman/21/