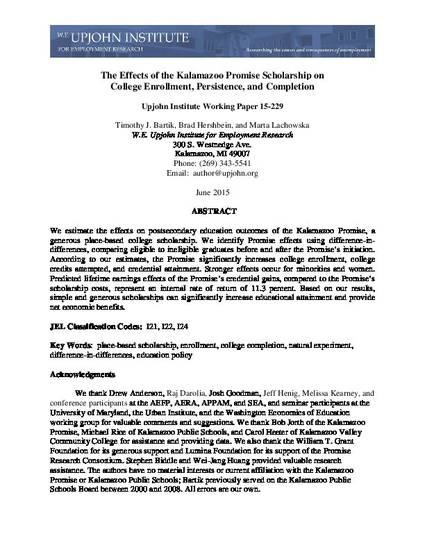 Contribution to Book
The Effects of the Kalamazoo Promise Scholarship on College Enrollment, Persistence, and Completion
Upjohn Institute Working Papers
Series
Upjohn Institute working paper ; 15-229
Abstract
We estimate the effects on postsecondary education outcomes of the Kalamazoo Promise, a generous, place-based college scholarship. We identify Promise effects using difference-in-differences, comparing eligible to ineligible graduates before and after the Promise's initiation. According to our estimates, the Promise significantly increases college enrollment, college credits attempted, and credential attainment. Stronger effects occur for women.
Issue Date
June 2015; Revised December 2017
Sponsorship
William T. Grant Foundation
Citation Information
Bartik, Timothy J., Brad Hershbein, and Marta Lachowska. 2017 " The Effects of the Kalamazoo Promise Scholarship on College Enrollment, Persistence, and Completion." Upjohn Institute Working Paper 15-229. Kalamazoo, MI: W.E. Upjohn Institute for Employment Research.