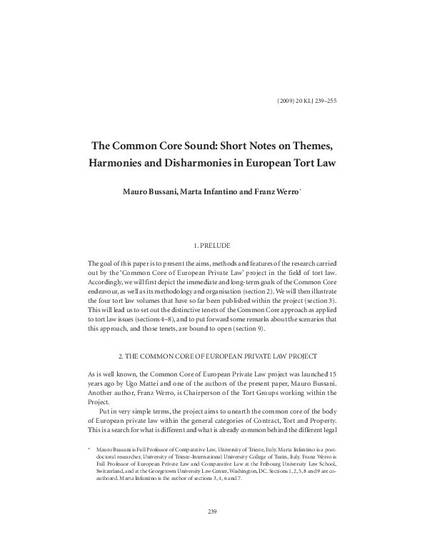 Article
The Common Core Sounds. Short Notes on Themes, Harmonies and Disharmonies of European Tort Law
King's Law Journal (2009)
Abstract
The goal of this paper is to present aims, methods and features of the research carried out by the 'The Common Core of European Private Law" project in the field of tort law. Accordingly, we will first depict the immediate and long-term goals of the 'Common Core' endeavour, as well as its methodology and organisation. We will then illustrate the four tort law volumes that have been so far published within the project. This will lead us to find out the distinctive tenets of the Common Core approach as applied to tort law issues, and to put forward some remarks about the scenarios that this approach, and those tenets are bound to open.
Citation Information
Marta Infantino, Mauro Bussani and Franz Werro. "The Common Core Sounds. Short Notes on Themes, Harmonies and Disharmonies of European Tort Law"
King's Law Journal
Vol. 20 Iss. 3 (2009)
Available at: http://works.bepress.com/marta_infantino/7/