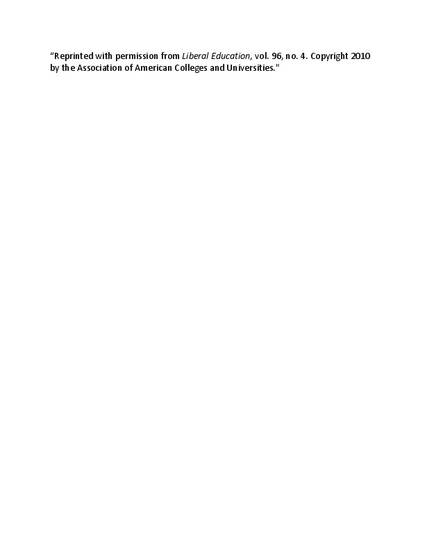 Article
How Teachers Need to Deal with the Seen, the Unseen, the Improbable, and the Nearly Imponderable
Liberal Education
Publication Date
1-1-2010
Additional Publication URL
https://www.aacu.org/liberaleducation/2010/fall
Abstract
The article offers information concerning the teacher's approach in dealing with the students' issues in Butler University in Indianapolis, Indiana. Visible, invisible, improbable, and the nearly imponderable issues are the variables of the student's educational growth. These variables include student's classroom participation, emotional struggles, and the teacher's influence with the decision of the students.
Rights
"Reprinted with permission from Liberal Education, vol. 96, no. 4. Copyright 2010 by the Association of American Colleges and Universities."
Citation Information
Marshall W. Gregory. "How Teachers Need to Deal with the Seen, the Unseen, the Improbable, and the Nearly Imponderable"
Liberal Education
Vol. 96 Iss. 4 (2010) p. 34 - 41
Available at: http://works.bepress.com/marshall_gregory/18/