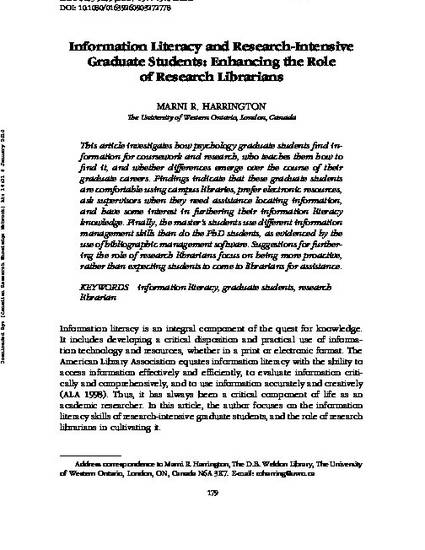 Article
Information Literacy and Research-Intensive Graduate Students: Enhancing the Role of Research Librarians
Behavioral & Social Sciences Librarian
Publication Date
1-1-2009
URL with Digital Object Identifier
10.1080/01639260903272778
Abstract
This article investigates how psychology graduate students find information for coursework and research, who teaches them how to find it, and whether differences emerge over the course of their graduate careers. Findings indicate that these graduate students are comfortable using campus libraries, prefer electronic resources, ask supervisors when they need assistance locating information, and have some interest in furthering their information literacy knowledge. Finally, the master's students use different information management skills than do the PhD students, as evidenced by the use of bibliographic management software. Suggestions for furthering the role of research librarians focus on being more proactive, rather than expecting students to come to librarians for assistance.
Citation Information
Marni R. Harrington. "Information Literacy and Research-Intensive Graduate Students: Enhancing the Role of Research Librarians"
Behavioral & Social Sciences Librarian
Vol. 28 Iss. 4 (2009) p. 179 - 201
Available at: http://works.bepress.com/marni_harrington/4/