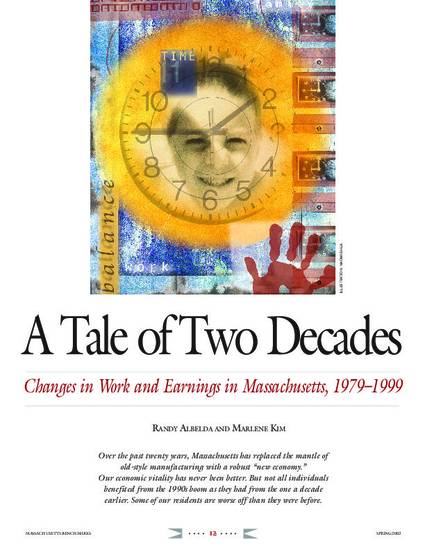 Article
A Tale of Two Decades: Changes in Work and Earnings in Massachusetts, 1979–1999
Economics Faculty Publication Series
Publication Date
4-1-2002
Abstract
Over the past twenty years, Massachusetts has replaced the mantle of old-style manufacturing with a robust "new economy." Our economic vitality has never been better. But not all individuals benefited from the 1990s boom as they had from the one a decade earlier. Some of our residents are worse off than they were before.
Community Engaged/Serving
No, this is not community-engaged.
Publisher
University of Massachusetts
Citation Information
Albelda, Randy and Kim, Marlene, "A Tale of Two Decades: Changes in Work and Earnings in Massachusetts, 1979–1999" (2002). MassBenchmarks. Vol. 5, No. 2, pp. 12-17: http://scholarworks.umb.edu/econ_faculty_pubs/21