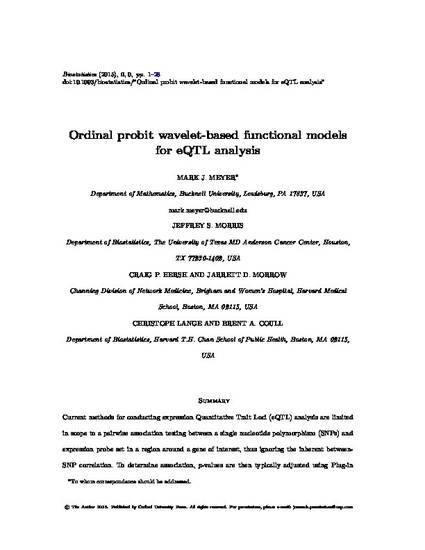 Article
Ordinal probit wavelet-based functional models for eQTL analysis
Submitted for Publication in Biostatistics (2015)
Abstract
Current methods for conducting expression Quantitative Trait Loci (eQTL) analysis are limited in scope to a pairwise association testing between a single nucleotide polymorphism (SNPs) and expression probe set in a region around a gene of interest, thus ignoring the inherent between-SNP correlation. To determine association, p-values are then typically adjusted using Plug-in False Discovery Rate. As many SNPs are interrogated in the region and multiple probe-sets taken, the current approach requires the fitting of a large number of models. We propose to remedy this by introducing a flexible function-on-scalar regression that models the genome as a functional outcome. The model is formulated for a three-level ordinal categorical outcome in the Bayesian context and allows for the inclusion of a potentially large set of covariates. We examine the properties of the model in both simulation and in application to a chronic obstructive pulmonary disease genetic data set where eQTL analysis is of interest alongside a comparison of the standard approach.
Publication Date
October, 2015
Citation Information
Mark J Meyer, Jeffrey S Morris, Craig P Hersh, Jarrett D Morrow, et al.. "Ordinal probit wavelet-based functional models for eQTL analysis"
Submitted for Publication in Biostatistics
(2015)
Available at: http://works.bepress.com/markjmeyer/7/