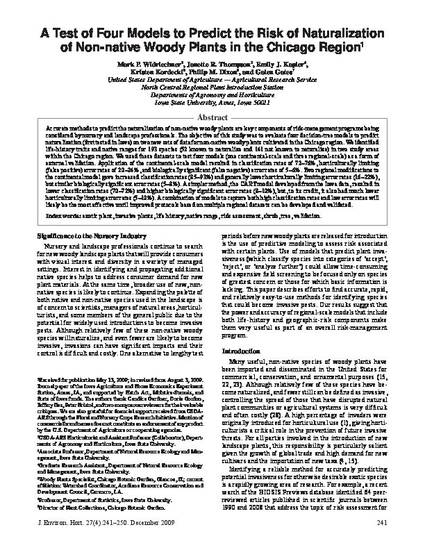 Article
A Test of Four Models to Predict the Risk of Naturalization of Non-native Woody Plants in the Chicago Region
Journal of Environmental Horticulture
Publication Date
12-1-2009
Abstract
Accurate methods to predict the naturalization of non-native woody plants are key components of risk-management programs being considered by nursery and landscape professionals. The objective of this study was to evaluate four decision-tree models to predict naturalization (fi rst tested in Iowa) on two new sets of data for non-native woody plants cultivated in the Chicago region. We identifi ed life-history traits and native ranges for 193 species (52 known to naturalize and 141 not known to naturalize) in two study areas within the Chicago region. We used these datasets to test four models (one continental-scale and three regional-scale) as a form of external validation. Application of the continental-scale model resulted in classifi cation rates of 72–76%, horticulturally limiting (false positive) error rates of 20–24%, and biologically signifi cant (false negative) error rates of 5–6%. Two regional modifi cations to the continental model gave increased classifi cation rates (85–93%) and generally lower horticulturally limiting error rates (16–22%), but similar biologically signifi cant error rates (5–8%). A simpler method, the CART model developed from the Iowa data, resulted in lower classifi cation rates (70–72%) and higher biologically signifi cant error rates (8–10%), but, to its credit, it also had much lower horticulturally limiting error rates (5–10%). A combination of models to capture both high classifi cation rates and low error rates will likely be the most effective until improved protocols based on multiple regional datasets can be developed and validated.
Rights
Works produced by employees of the U.S. Government as part of their official duties are not copyrighted within the U.S. The content of this document is not copyrighted.
File Format
application/pdf
Citation Information
Mark P. Widrlechner, Janette R. Thompson, Emily J. Kapler, Kristen Kordecki, et al.. "A Test of Four Models to Predict the Risk of Naturalization of Non-native Woody Plants in the Chicago Region"
Journal of Environmental Horticulture
Vol. 27 Iss. 4 (2009) p. 241 - 250
Available at: http://works.bepress.com/mark_widrlechner/20/