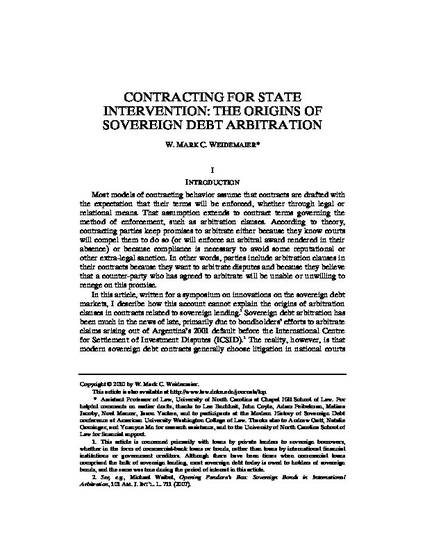 Article
Contracting for State Intervention
Law and Contemporary Problems (2010)
Abstract
Most models of contracting behavior assume that contract terms are meant to be enforced, whether through legal or relational means. That assumption extends to dispute resolution terms like arbitration clauses. According to theory, contracting parties adopt arbitration clauses because they want to arbitrate disputes and because they believe that a counter-party who has agreed to arbitrate will keep that promise rather than incur the resulting legal or extra-legal sanction. In this article, I describe how this standard account cannot explain the origins of arbitration clauses in sovereign bond contracts. Drawing on original archival research and secondary sources, the article traces the routine use of arbitration clauses to U.S. dollar diplomacy in the first decades of the 20th century and shows that these early clauses were not designed to facilitate an arbitration between lender and borrower. Instead, the clauses were designed to justify intervention by capital-exporting states on behalf of disappointed citizen-investors and to convince prospective investors that the prospect of such intervention would deter default. These early arbitration clauses, then, were little more than efforts to signify and project power by capital-exporting states. The article traces the evolution of arbitration clauses over the first half of the century and concludes that lenders often hoped (typically in vain) that these clauses would enable them to harness the enforcement capacity of state actors.
Keywords
contracts,
arbitration,
sovereign debt,
international arbitration,
dispute resolution
Publication Date
Fall 2010
Citation Information
W. Mark C. Weidemaier. "Contracting for State Intervention"
Law and Contemporary Problems
Vol. 73 (2010)
Available at: http://works.bepress.com/mark_weidemaier/6/